Finding a cat with white spots or patches isn't difficult. Coming across a solid white cat? Now that takes some work! They're the rarest felines out there. And while almost any cat breed has the potential to sport a snowy coat, the dice roll of the genetics isn't typical. That makes a white cat EXTRA special. You want to play up the unique qualities of your fluffy friend when you start considering names. Why go expected when your kitty's anything but? Good thing we have 90 white cat names that take you out of the box and into the extraordinary!
White Cats
White cats only appear in 5% of the feline population. Why are they so rare? It comes down to genetics. There are two expressions of white on the KIT gene in cats: white-spotting and epistatic white. White-spotting leads to the usual white patterns you see in cat hair coats. It leads to socks, mittens, bibs, and other splashes – including those famous tuxedoes. Epistatic white is the expression you need to get a "solid" white cat. It IS a dominant trait, but it doesn't pop up often. The white masks all other colors. And scientists think it occurred as a need to protect cat breeds from cold temperatures. (Think Arctic Fox in winter – same idea)
It also brings blue eyes into the mix. The iris naturally carries a blue undertone. Since other colors get masked, the eye stays blue throughout the cat's life. And while nothing looks more gorgeous and striking than cobalt eyes on ice-white fur, the combination isn't the best. Unfortunately, white cats with blue eyes also carry a risk for deafness. Approximately 70% of the blue-eyed beauties develop some level of deafness throughout their lives (which is only 1-1.5% of the entire cat population, to put it into perspective). However, the odds are a little strange:
1 blue eye doubles the risk over no blue eyes (on the side with the blue eye)
2 blue eyes mean 3-5 times the chance of deafness than no blue eyes
Long hair TRIPLES the risk of deafness
Isn't genetics fun?
Albino Cats
Of course, there are other white cats out there – albinos. These cats have an entirely different genetic code working. Rather than the KIT gene, we need to look at the TYR gene for them. The TYR gene works to coordinate tyrosinase, which produces melanin. Melanin is a pigment that goes into your cat's skin, eyes, and fur. (Black cats enjoy A LOT of melanin) Albino cats have a broken or missing TYR gene, so they have trouble manufacturing melanin. As a result, they look white, with pink skin and light blue or pale pink eyes. The pink is due to the reflection of the blood flow underneath – NOT an actual pigment.
While still striking in appearance, albino cats face a lot of problems (similar to albino dogs):
Light Sensitivity: You need melanin to protect your skin and eyes. Since they don't have any (or have very little), they can suffer eye damage or sunburns.
Immune Disorders: Melanin also works in the immune system. Albino creatures suffer from higher health risks.
Clumsiness: Who knew melanin was so important? It assists with depth perception. So without it? Your cat can miss jumps or bump into things.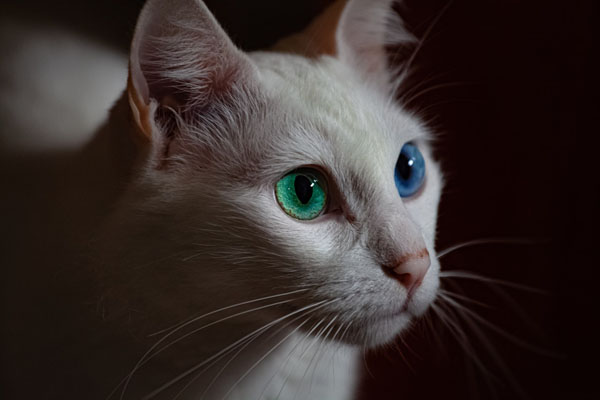 White Cat Mythology
Due to their rarity, white cats have enjoyed a rich part of our history. They appeared throughout mythology, popped up in art and literature, and wormed their way in as symbols of luck – good and bad, unfortunately. (Bet you didn't see that coming) With such interesting mythos to plunder for white cat names, you're spoiled to choose where to begin with your thought process. Or, at the very least, it's always interesting to learn what we thought of our beloved felines in the past. Sometimes superstitions grow out of fashion, and other times they don't.
Felines of the Gods
More than any of the other felines, white cats have found a seat at the side of deities. (I know, shocking) Of course, you won't find such snowy cats getting worshipped in the deserts – not with those soaring temperatures. You have to travel a little further north.
The Celtic goddess Ceridwen used white cats as her attendants. They waited on her and carried out her orders. She held sway over transformation, rebirth, and inspiration.
The Norse goddess, Freya, drove a chariot drawn by two giant white cats. She held dominion over love, fertility, divination, and magic. Farmers hoping for a good harvest left offerings for the cats outside their doors.
Throughout Asia, white cats represent good luck. The most famous representation is the Maneki-Neko (which translates to "beckoning cat"). The little statues pop up everywhere, and they represent luck and good things to come on the horizon.
Throughout American history, white cats represented good luck. You WANTED to see these felines cross your path (as opposed to their dark cousins). And if you noticed a white cat in your dreams, good fortune was sure to come your way.
Bad Moon Rising
Unhappily, there are always two sides to every coin. Despite their rarity – or perhaps because of it – white cats have found themselves causing shudders in certain people. As it turns out, it doesn't matter whether you have black fur or white fur; you can still find yourself the object of fear and superstition.
Throughout England, a popular school myth claims that a white cat appearing on the way to class means trouble's on the horizon. (You have to wonder if this might have been justification FOR the trouble) And since Britain and Ireland never had a problem with black cats, they jump whenever a white cat crosses their paths. (Funny how things work)
And while American culture had no problem with a white cat appearing on the road during the day, if one showed up at night? Nope – time to turn around. An evening appearance was a sign of BAD luck.
White Cat Names
Sure, you can go the easy route of a wintry name (as people do with most white animals). But you have a RARE cat! Why would you want an ordinary name for your precious feline? You need to look through white cat names that challenge the mind. Start to conjure thoughts of the mysterious. These stunning felines worked alongside goddesses! They should carry a name that harkens back to that noble heritage. Or you can choose to pick something out of left field. The possibilities are endless once you get your mind turning. We've got 90 white cat names for you to start the journey. Or you can peruse our other name posts. Nothing's out of the realm of possibility. After all, a name is a name – no matter where the inspiration came from!
(And, in case you were wondering, yes, it got tricky coming up with different names than you saw for white dogs!)
Famous White Cat Names
Whether you consider literature or film, white cats have wormed their way into our hearts. And these famous felines are the perfect starting place for white cat name ideas. You'll find every kind of personality. One's sure to match your kitty's particular energy. Or maybe you're simply a fan – that works, too!
Artemis: Fans of the anime and mangas Sailor Moon or Sailor-V know this intelligent feline who shares a home with Minako. (And if you have a black cat, you can name Luna? Perfection!)
Blanchette: The French fairytale "The White Cat" depicts a crafty and intelligent feline who teaches the youngest son (of course) patience. While she's not officially named, the prince refers to her as "Blanchette."
Duchess: The lovely matriarch of the feline family, The Aristocats, provided this beautiful name for inspiration.
Marie: "Ladies don't start fights, but they can finish them!" The daughter of The Aristocats family is a fan favorite.
Musette: Gay Puree isn't the most widely-known cartoon, but Judy Garland voiced the lovely white cat.
Simone: People know "Cat" from Breakfast at Tiffany's, but Audrey Hepburn's personal feline was a white beauty named Simone.
Snow Bell: If you read or watched Stuart Little, you know this white cat well.
Snowdrop: At the end of Through the Looking Glass (the sequel to Lewis Carroll's famous tale of Alice), the White Queen transforms into Alice's tiny white kitten.
White Cat Names Based on Color
It's unavoidable. When you see a gleaming white cat sprawled against a colored pillow or on a gleaming wood floor, your mind demands to capture the image in words related to the color. It's more of an expected pattern for white cat names, but a few surprises appear. The longer you look at that enchanting picture, the more images come to mind. It's all in how much free rein you provide your imagination. And since the winter theme isn't as overdone in cats as dogs, I broke my rule and allowed the snow names a foothold here (don't hate me).
Alabaster
Angel (A word of caution – Every Angel I've encountered comes with the OPPOSITE personality)
Bones
Boo
Casper
Cottonball
Dove
Flamingo (Fun fact: the chicks are born white!)
Frosty
Furby
Ghost
Ice
Jasmine
Nimbus (These are the white, fluffy rain clouds)
Polar Bear
Powder Puff
Snow White
Snowball
Snowflake
Snowshoe
Snowstorm
Snowy
Snuggles
Spark
Starlight
Sugar
Vanilla
Winter
White Cat Names Based on Food
I bet you didn't think I could come up with any more white foods or beverages. (Okay, I won't lie – I didn't think so, either. Good thing my husband's a foodie) If you look for anything long enough, though, you can find it. And why should your cute little feline miss out on something that factors so prominently in your life? You love cooking, or styling food, or enjoying a great meal. Let their name reflect it. These white cat names share in the foodie fun. And if you have a feline that joins you in the kitchen (like our youngest), this is the perfect inspiration.
Béchamel (A creamy white sauce)
Biscuit (Come on – cats make biscuits with their paws!)
Cannoli
Creampuff
Egg
Fluffernutter
Icing
Marshmallow
Marscapone
Mochi (This Japanese confection is white)
Moonshine (I don't know personally, but I was informed most moonshine is white)
Pineberry (White strawberries)
Queso
Sprite
White Cat Names Based on the Mysterious
If you have a white cat – pure white – you share a home with a kitty representing just 5% of the population. That's not much! And they have a unique mythology behind them (when you focus on the good side of things). Why not capitalize on the uniqueness with white cat names that bring a sense of the mysterious to mind? You'll prompt a smile on your friends and family's faces – and probably your little feline, too. It's a different take on things and one that steps to the side of expected pathways.
Fog
Glitter
Misty
Mystique
Phantom
Poof
Siren
Spirit
Whisper
White Shadow
White Cat Names Based on Popular Culture
I won't lie – I had to split the popular culture icons between white cats and white dogs. It only seemed fair. And, no, there wasn't much of a rhyme or reason as to who ended up on this list and who went on the dog list. (Seriously, names aren't canine or feline) Finding characters with a white motif really isn't THAT easy. You have to start going a little out of the box and find different features, clues, or ideas as the basis for white cat names. But once you start thinking about it, the process gets easier. It just requires a little imagination.
Baymax ("You're personal healthcare companion." This lovable robot from Big Hero 6 is perfect, AND he loves cats)
Elsa (The inspiration for Frozen came from "The Snow Queen.")
Freya (Whether a nod to the Norse goddess or the Ice Queen from The Huntsman: Winter's War)
Ice Man (You have two options here: the X-Men character or the character from Top Gun)
Lumos (In the Harry Potter world, it's the spell to conjure light)
Merlin (The wizard of all wizards. He's often depicted with a white beard)
Odette (If you love ballet, you know the heroine of Swan Lake)
Ororo (This is the "civilian name" for Storm of the X-Men. She typically dresses in white)
Storm (The X-Men character has sweeping white hair)
Zeus (The Greek god held dominion over lightning)
White Cat Names Based on Stones
Coming across white stones in nature is almost as challenging as finding a solid white cat. Why not combine the two? And considering the precious nature of the stones, you'll let your kitty know exactly how much they mean to you. It's the perfect source of inspiration for white cat names. And if you decide to add a sparkly collar or harness, which is sure to sparkle against their icy fur? Talk about the icing on the cake! (Oops – wrong category) Anyway, it'll get your mind thinking in the right direction.
Chalk
Crystal
Diamond
Ivory
Opal
Pearl
Quartz
White Cat Names – Different Languages
You're never locked into one direction when you start to consider white cat names. The entire world (universe?) is open to you. While you may not speak another language fluently, you can always look up different words to see if they carry the right ring or tone for a name. People will dog your footsteps to find out how you came with something so special and unique. You can take a page out of your cat's book and flash a Cheshire Cat grin. (Or you can explain the inspiration – it's up to you)
Alba (Latin and German for "white pearl")
Aspro (Greek for "white")
Fionn (Irish for "fair" or "white")
Ina (Yoruba for "light")
Isa (Norwegian for "ice")
Kenzie (Scottish for "the fair one")
Lumiere (French for "light")
Lux (Latin for "light")
Neve (French for "snow")
Puti (Filipino for "white")
Shiro (Japanese for "white")
Zima (Slavic for "winter")
Zuri (Albanian for "white")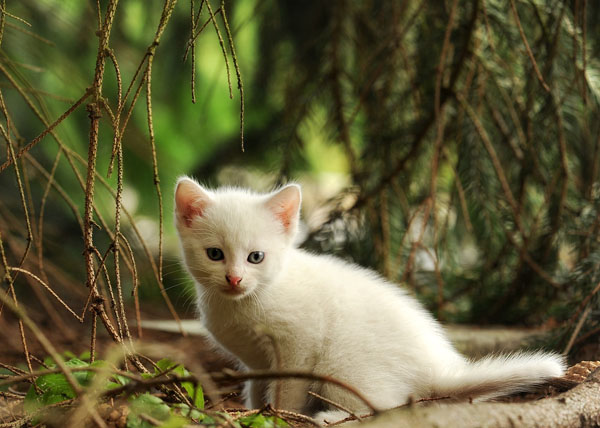 Rare as Flowers in Winter
Stumbling upon a solid white cat may take years. They're difficult to come by. Good thing finding the perfect white cat name isn't so much of a challenge. You need only look through literature, consult the best of mythology, or take a stroll through the natural world. You'll find more than enough inspiration to settle on the perfect unique name for your special feline.
After all, such a rare cat deserves a name that's every bit as rare and precious!