Is there anything more regal than a cat seated on a pillow, their fur spread around them? You HAVE to admire them. And, of course, reach out a hand to touch all of that silky fluff. Fluffy dogs beg us to snuggle into all of their poof, but cats? We feel awe and marvel at the amount of careful grooming that produces their majestic appearance. Of course, once we get past our admiration, we want to cuddle our favorite felines, too. Long-haired cat breeds stand out in a crowd. Maybe it's because we KNOW hours and hours of care went into those careful looks. Or perhaps it's simply because they look so different from short-haired breeds. Whatever the reason, we're going to show you some of the long-haired cat breeds out there.
Long Hair
The Cat Fancier's Association (CFA) currently recognizes 45 breeds. Out of that group, 22 have the possibility of donning long hair (so about half). But if you focus on the breeds that ONLY come in a long-haired form? Only ELEVEN. This isn't too surprising when you realize that long hair in cats ISN'T the norm.
In feline genetics, long hair is recessive. So unless a kitten gets TWO copies of the long-haired gene, they'll end up sporting short hair. Short hair is the usual blueprint in felines. This is why you can see litters that have either (and why the other 11 breeds may have either short OR long hair). As beautiful as all of that silky fluff is, it's not very common.
Long hair probably came from a mutation of the hair gene. And while Italy documented the first long-haired cat in the 16th century, most cat enthusiasts believe the fluffy coats started in Asia. Now, of course, many people share their homes with domestic longhair (DLH) felines. While not a standardized breed (for CFA or TICA – The International Cat Association), plenty of people are happy to keep these gorgeous felines in their homes.
The Shedding Myth
Some people avoid long-haired cat breeds. They believe that the longer the fur, the worse the shed. As it turns out, though, cats with long hair DON'T necessarily shed more than short-haired cats. (And the reverse is true, too!) The rumor popped up from the hair's LENGTH and what it looks like spread across the couch. Obviously, a cat with long hair is going to shed LONGER hair. And when those longer hairs curl up together, they give an impression of MORE hair. But it's actually the same AMOUNT of hair their shorter-haired cousins allow to fall.
Of course, there ARE exceptions to the rule. Some long-haired cat breeds have double or even TRIPLE hair coats. This means a much denser undercoat that WILL produce excess hair during the shedding season. Maine Coons and Somalis? You'll need to have a top-quality pet vacuum on standby to cope with their shedding hair. However, the Balinese and Siberian shed the same as your average feline. It all has to do with the layers of the coat.
And don't rule out those short-haired cat breeds as top shedders! I have two "ordinary" domestic shorthairs. The amount of hair they shed boggles the mind. You could easily craft two new cats when we finish brushing them. I've owned one DLH in my life, and she NEVER shed anywhere near as much as these two boys.
If you want to cut down on shed hair (in ANY cat), look for quality extras in your cat food. The following ingredients improve skin and coat health, keeping shedding to a minimum:
Antioxidants
Linoleic acid
Omega-3 and -6 fatty acids
Vitamins A and E
Caring for Long-Haired Cat Breeds
There's no getting around it: if you have a long-haired cat breed, you need to invest in grooming time. The longer and silkier your feline's hair, the more prone it is to tangling and matting. Setting up a grooming routine starts when these fluffy cats are kittens. Your kitty will learn to adjust to (and appreciate) the routine, making life easier on you down the road. You'll minimize hairballs (the bane of long-haired felines), prevent mats, and keep your cat looking luxurious.
A quality cat brush is a MUST. Depending on the breed, you may need to spend AT LEAST once a day brushing out that silky fluff. It's important to go slow and always move "with the grain." Combine grooming with a chance to check your cat for potential lumps, bumps, or injuries. And a steady supply of treats will keep grooming a positive experience.
Any time you feel in over your head? Consult a professional. There's nothing sadder than having to shave down a long-haired cat breed due to matting. But it's better than going to the vet for an accidental slice.
Long-Haired Cat Breeds
Long-haired cat breeds look and feel like satin. You KNOW you're in the presence of someone royal. At least until they jump down and chase after a favorite toy. And the majority of these felines savor crawling into your lap for quality time. That helps with the need to maintain their grooming, but it also lowers YOUR blood pressure and makes you feel special. Whether you're looking for a cat to inspire regal photographs or simply want the fluffiest companion, these are the kitties to search for.
Long-Haired Cat Breeds: Bigger is Better
Some of the largest cats out there also sport the fluffiest coats. Coming from some of the harshest climates worldwide, double coats with water-resistant fur keep these fluffy felines toasty no matter what's happening outdoors. Of course, these long-haired cat breeds prefer snuggling with you on the couch. But that doesn't mean they're opposed to exploring the garden. Just make sure you understand exactly HOW large your kitty companion is likely to get!
Maine Coon: Maine Coons have dense coats with a water-resistant outer layer. As a bonus, their tails feature extra fluff they tuck around themselves. You even get extra tufts on their ears and between their (occasionally polydactyl) toes! The official state cat of Maine, it's believed the harsh winters gave rise to the extra layers of fur in their coats.
Norwegian Forest Cat: All hail the Wegie! Legend has it Wegies pulled the Norse goddess Freya's chariot and accompanied the Vikings on their raids. They certainly come from the proper climate to support the thick coat and water-resistant guard hairs! The dense fur is so adapted to the elements, you're cautioned AGAINST bathing this feline (unless absolutely necessary).
Persian: Most people picture Persians when they think of long-haired cat breeds. Silky hair trails around them – adapted to their luxurious lifestyle of – well, not doing much. Unfortunately, all of that fluff requires CONSTANT care as they shed ALL the time. If you don't keep up with their brushing, they quickly end up tangled and matted.
Siberian: It's possible the Siberian served as the origin of that long-haired mutation. In the subarctic region they call home, you find mentions of the feline going back ONE THOUSAND years! However, despite the THICK protective coat of the long-haired cat breed, they aren't big shedders. For people with allergies, they're one of the better felines to have around.
Long-Haired Cat Breeds: Straight to the Point
Points appear in several felines. Pointed coats refer to darker colors on the extremities. Namely, the muzzle, ears, paws, and tail. Most people recognize the pointed coat in the Siamese, but it appears in several others, including a few long-haired cat breeds. The stunning color contrasts, paired with a beautiful fluffy coat, are hard to resist. And as these lovely felines come with sweet tempers, you'll want to clear your lap for them to snuggle close.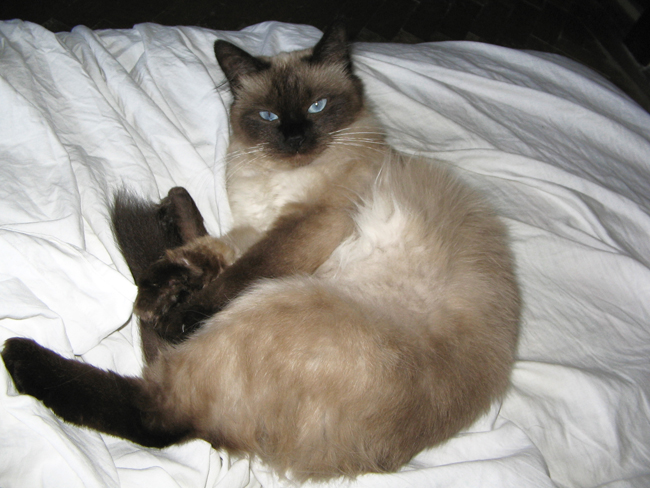 Balinese: If you want the beauty of a Siamese paired with long, fluffy fur, consider the Balinese. The Balinese IS the long-haired version of their shorter-haired cousin. As those furry tendrils extend from the body, they start to wave. And, of course, you get lovely bright blue eyes. You'll also get the same vocal demands and insistence on being the center of attention.
Birman: Birmans look similar to the Balinese – same color points and blue eyes – but they're of a quieter disposition. These French, pointed, long-haired cats love nothing more than to curl up with you, the kids, or even with whoever happens to drop by for a visit. Unfortunately, they shed more than the Balinese. If you don't keep up with grooming, they WILL leave you hairballs.
Himalayan: Himalayans arose from crossing two popular long-haired cat breeds: Persians and Siamese. You get the long, silky hair of the Persian with the Siamese's electric blue eyes. And their personality? It's a little in the middle. They're sweet and love attention, but they won't follow you around, and yowl demands at you all day.
Ragdoll: You'd be hard-pressed to find a sweeter temperament than the Ragdoll's. They WANT to flop all of their fluff into your lap and stay there. Not bad, considering the breed got its start from a stray! This is a feline that sheds CONSTANTLY. However, they'd rather tend to their grooming needs themselves. You can standby with the vacuum and broom.
Long-Haired Cat Breeds: Out of the Ordinary
Not every long-haired cat breed looks the same. Oh, sure, the past two groups have shared similar features. But this group? They're out of the box. They still sport long hair, but that's where the similarity ends. Each one brings something different to the table – something that appeals to plenty of cat lovers. Or, you know, the average person who doesn't have enough snuggly animals in their life.
Long, Luxurious Hair
People get enchanted by long-haired cat breeds. How can you not? They look so majestic. And when you start to pet all of that silky hair, you go into a trance. These felines capture our imagination and our attention. And as long as you're prepared for their grooming needs, there's no reason you can't bring one into your home.
Or, you know, admire their pictures and be glad someone else takes care of that chore!