As fad diets such as keto and paleo hit our routines, grain-free diets flooded the pet food markets. The trend caught fire, and many owners switched their dogs away from traditional foods. Until the veterinary world started waving red flags. In the summer of 2018, the FDA began listening. Now grain-free diets present a quandary. If you're feeding one of these diets or considering switching to one, make sure you have ALL of the facts in hand. They might save your dog's life.
The BEG
Grain-free diets fall into a category of fad diet referred to as "BEG" diets. BEG stands for boutique, exotic, and grain-free. They represent diets utilizing boutique companies, exotic ingredients, and grain-free labels. Marketing leads owners to believe these BEG diets are better quality, with no scientific evidence to back up their statements.
After all, when was the last time you saw your dog drooling over the alligator on TV?
The truth is, board-certified nutritionists have NO idea how these ingredients work in a dog's body. And these companies, however expensive they may be, don't employ nutritionists on their staff. Which is where the problems started.
Omnivore? Carnivore?
Many pet food companies run campaigns centered around the claim that dogs are carnivores. Their grain-free diets return your dog to a "wild" state. We know our canine companions have wolfy ancestors, but we overlook the domestication process.
Dogs now produce more amylase. Amylase is a protein the intestines use to process starches. Starches such as grains. Part of their ongoing lives as our loyal companions allowed dogs to digest cooked grains. Dogs now have omnivorous capabilities. They still require quality protein at the top of the ingredient list, but grains aren't the enemy.
The Allergy Controversy
One of the most subtle (and successful) arguments deployed by pet food marketing involves the fear of grain allergies.
"Dogs aren't omnivores, so those horrible grains produce the allergens that plague our faithful four-legged friends."
Dogs DO suffer allergies, so the message sinks in, and owners rush to switch their dogs to grain-free diets.
Here's the truth: only 10% of ALL dog allergies come from food. And of those allergies, the bulk comes from these sources:
Beef
Chicken
Dairy
Eggs
Lamb
You've got it – PROTEIN. Rarely do dogs show an allergy to grains. This is why when your vet suspects a food allergy, they prescribe a prescription diet with a unique protein. (A prescription diet, formulated by a company with a board-certified nutritionist on staff) The diets usually AREN'T grain-free, and dogs handle them without a problem. It's calling the marketing's bluff.
Grain-Free Diets and DCM
Grain-free diets followed the human diet trend. Marketing teams know that owners believe what's right for them is good for their pets. So when people started turning gluten-free (even without a diagnosis of Celiac disease) and picking up on the paleo trend, grain-free diets flooded pet stores. No one considered the phase unusual.
Then veterinary cardiologists noticed a disturbing trend. Dogs started presenting with dilated cardiomyopathy (DCM). That wasn't too unusual – it's a genetic condition, after all. The problem was these were breeds that DON'T get DCM. And the cases looked wrong. They were the worst cases of DCM cardiologists had ever seen. Vets started talking to each other, gathering numbers, and then they waved a giant red flag.
DCM and Grain-Free Diets
DCM occurs when the walls of the heart enlarge, becoming weak. They're no longer able to pump blood effectively. The valves stretch apart, developing leaks. As the heart struggles to cope, fluid builds up in the chest or abdomen. This is known as congestive heart failure. DCM results from a genetic precondition, infections, or nutrition.
The most common breeds affected include:
It's a giant breed disease, for the most part (Cocker Spaniels are the exception). But cardiologists saw DCM crop up in unexpected breeds. Breeds that never see DCM:
And there was only one common thread across the entire country: grain-free diets.
The FDA's Warnings on Grain-Free Diets
In the summer of 2018, the FDA sat up and took notice. They issued their first warning to the public, suggesting a possible link between grain-free diets and atypical DCM. The problem was no one (not the cardiologists, not the nutritionists, not the FDA's scientists) knew what the connection WAS. Without a specific ingredient to point to, grain-free diets remained on the shelves. And many people continued to feed them, discounting the warning.
So cases piled up.
By February 2019, 294 dogs and six cats appeared on the FDA's radar. Four months later, at the June 2019 update, those numbers climbed to 515 dogs and nine cats! Cardiologists and nutritionists alike scrambled for answers and warned their clients: AVOID grain-free diets.
Desperate to stem the flood of cases, the FDA published a list of the biggest offenders. Collecting case data on their Safety Reporting Portal (available to the public and veterinary staff), they shared the list with the public.
You may recognize these brands (listed from highest offender to lowest):
Acana
Zignature
Taste of the Wild
4Health
Earthborn Holistic
Blue Buffalo
Nature's Domain
Fromm
Merrick
California Natural
Natural Balance
Orijen
Nature's Variety
Nutrisource
Nutro
Rachel Ray Nutrish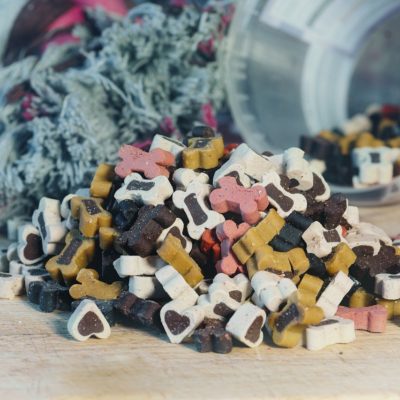 The Problem with Grain-Free Diets
Veterinary nutritionists have plunged into this mystery with frantic energy. Working in conjunction with veterinary cardiologists, laboratories, and the FDA, they're trying to unravel the mystery. What's causing this new form of DCM? Why is it so deadly? How long does it take to generate the damage?
It's an agonizing process, and the answers haven't appeared yet.
The Suspected Culprits of Grain-Free Diets
What everyone suspects are the fillers grain-free diets use to replace grains. Instead of rice, wheat, or corn as the carbohydrate filler, grain-free diets use other carbohydrate sources. (So if you thought grain-free diets were low-carb – surprise!)
The following ingredients rank as top suspects and should be AVOIDED:
Legumes and Pulses:
The seeds of any of the legumes or pulses
Potatoes:
This means checking the ingredient label of your dog's food. You shouldn't see ANY of these ingredients listed. If you do, skip that grain-free diet. It's not worth the risk to your dog.
The Taurine Debate
You may or may not see grain-free diets advertising that they've added taurine to compensate for the DCM crisis. This relates to an early suspicion that the diets interfered with the taurine levels of the affected dogs.
Taurine is an amino acid that comes from animal proteins. Dogs obtain some from their diets, but they synthesize the rest from two other amino acids: cysteine and methionine. This is different from cats, who need ALL of their taurine to come from their diet. Taurine's vital for heart function, so it made sense to check taurine levels in the new DCM patients.
However, many have normal taurine levels. So while some extra taurine in your grain-free diet won't hurt your dog, it also won't stave off DCM.
Bottom Line for Grain-Free Diets
The truth boils down to this: dogs DON'Tt need grain-free diets. They cause more harm than good. Having worked in a cardiology office and seen the damage first-hand, our first recommendation was a diet change. And that change was AWAY from grain-free diets. It can take up to NINE MONTHS to reverse the damage, but we DID see improvement in our patients that returned to grain-FULL dog foods.
Your best bet is to research the food you want to offer your dog thoroughly. Pet Nutritional Alliance appeared in 2018. Unlike other pet food resources, veterinary nutritionists run PNA (one of the most popular pet food sites is run by a human dentist, to offer a comparison). They interview pet food manufacturers and find out the following information:
Is there a board-certified nutritionist on staff?

Are they full-time? Part-time? Or do they consult?

Who manufactures the food?

What percentage of the company out-sources?

Is quality control performed?
This is the kind of information you WANT to know about your pet's food (they check cat food, too!). Instead of relying on internet sources run by people with no nutritional background, switch to a reference providing SAFE information.
Best Grain-Free Diets
Even with this information, people want to stick to grain-free diets. It's understandable. After all, no one has firm answers yet. You CAN safely offer a grain-free diet to your dog. However, you need to reference that ingredient label. And you need to stick to a pet food company with a board-certified nutritionist on staff FULL-TIME. Luckily, five companies fit that bill:
Eukanuba
Iams
Purina
Royal Canin
Science Diet/Hill's
Some of these diets ARE prescription-only. Your dog will need to undergo allergy testing to get approval for the diet. If you're concerned about your dog's well-being, it's worth the cost.
If you prefer to skip the testing and prescription, the following diets meet the ingredient label challenge.
Hill's Science Diet is the over-the-counter version of the prescription-only company. The Sensitive Stomach formula caters to dogs with wobbly tummies. Every kibble or can comes packed with Vitamin E and omega-6 to keep your dog's skin healthy. If you want to skip grains, avoid the turkey and rice flavor, and choose either the salmon and vegetable or chicken and vegetable options.
Honest Kitchen provides human-grade meat as the first ingredient. They avoid GMO ingredients, cold-pressing the clusters to keep the nutrients intact. When you look at each kibble cluster, you can identify the different fruits and vegetables included. Every ingredient comes from the U.S., with no out-sourcing. Your dog can choose from beef, chicken, or turkey.
Purina's Beyond sources premium meat as the first ingredient. The protein shreds make an appealing texture your dog will enjoy. There's no corn, wheat, or soy included, but they also skip those dangerous legume fillers. You can find dry and canned versions to satisfy your dog's preferences. Flavors include chicken and egg, beef and egg, northwest hake and lentil, beef and lentil, and tuna and egg. (Yes, there are lentils, but Purina's a safe company. If you're concerned, skip those flavors)
If you want to boost your dog's diet with some extra vitamins and nutrients, Purina's Superfood blend does the trick. You get the same high-quality meat at the top of the ingredient list, but you get the bonus of probiotics and vegetables high in antioxidants. Best of all, you get omega-3 and omega-6 to provide joint and coat health. They offer flavors dogs crave in dry and canned formulas: salmon egg and pumpkin and chicken barley and egg. (Officially, barley's a grain – just to remain transparent).
Purina ONE packs up to 30% protein into every bag of food. You won't find a single listing of corn, wheat, or soy, but you WILL see meat at the top of the ingredients. They DO carry a flavor of beef and sweet potato, but Purina has board-certified nutritionists on staff, reassuring you your dog's in safe hands. If you want to stay on the safe side, choose one of the other options available in dry or canned: beef, chicken, or turkey, duck, and quail.
Grain is NOT a Four-Letter Word
Grain-free diets hit the pet food market as part of a trend. Unfortunately, the fad caused more trouble than anyone expected. Grain-free diets hold the potential to cause DCM in dogs. Until the cause is located, you're best bet is to avoid them.
If you want to keep your dog on a grain-free diet, choose a company with a board-certified nutritionist on staff. And check the ingredient label for the suspect ingredients. It's the safest way to protect your dog.