People who own dogs often scoff at the idea of cats performing the same tricks as their canine counterparts. Who's ever heard of a cat sitting on command? And a cat that comes when they're called? Be serious. Cats show up when they feel like it. True cat-people will assure you that felines have the same intelligence and capability of learning as dogs, though. And if you're willing to take the time to train your feline, you'll see that for yourself. The process works the same, believe it or not. And once you and your kiddo have mastered these first seven cat tricks, you can move on to others. You'll be pleasantly surprised to find out just how practical all of them can be in your day-to-day life!
Why Train Cats?
We know cats have an independent streak. It's one of the endearing qualities that we love so much. However, that ability to handle the world on their own is often misinterpreted by the outside world. People view cats as aloof, stubborn, and untrainable. After all, the most you get when you call their name is one eye cracked open. Attempting to train a cat seems like it would be a waste of time.
But the truth is just the opposite. When you engage in training sessions with your feline friend, you spark the inquisitive side of their brain. Cats left on their own all the time often grow bored or frustrated. This can lead to unwanted behaviors, such as climbing the drapes or exploring the top of the refrigerator. By providing a healthy distraction, you prevent the development of those nasty habits.
"Unfortunately, our feline friends are often wrongly viewed as disobedient and stubborn – when, in fact, they are supremely intelligent and extremely trainable. However, the key to training them lies in understanding what motivates them and using positive, reward-based techniques."

~Kim Houston, BSc (Hons), PG, Dip CABC, CCAB; Owner of CAT-astrophes Feline Behaviour Clinic
Whether working on cat tricks or focusing on a specific behavior, the time you spend with your cat also helps you strengthen the bond with your four-legged friend. You're setting aside part of the day to interact with them, reaffirming how special they are. More than supplying an electronic cat toy to stimulate their fuzzy mind, training time confirms you care.
Training Method
The best way to start with cat tricks is through positive reinforcement techniques. Clicker training provides the highest success rate. You can shape any behavior through a few sessions, allowing you to transition to a spoken command. The sound paired with a reward (usually a treat) encourages the action you're working on. It's the best way to shape good habits as well as deterring your kitty from actions you'd rather they stop.
You NEVER want to resort to discipline, even if you're working on preventing unwanted behavior. Raising your voice, using a squirt bottle, or swatting your cat WON'T discourage the habit. Instead, you'll teach them to avoid YOU. They'll continue jumping on the counter – when you're not around. It's not the goal you're looking for.
Materials for Teaching Your Cat Tricks
Make sure you have the basics of clicker training down. (After all, not all cats appreciate the sound of a clicker – you may need to find an alternate) Then you can move on to starting these cat tricks. You'll want to gather the following materials:
Quiet: If your cat can't hear the clicker or gets distracted, the training session won't work
Reward: Training rewards always need to be special; don't use everyday treats
Timer: Limit training sessions to 15 minutes MAX
Training Reminders
Training your cat is exciting. Your kiddo gets bursts of exercise – for their body and mind – and you both get time to bond. And while some cats take to clicker training quickly, others need a little more time. Not to mention that some cat tricks come easier (and faster) than others. You'll need to remain patient and positive throughout the process, or you'll derail the process yourself. (Remember, animals pick up on our emotions) This is why it's important to keep these training tips in mind at all times:
The timer is your friend. Even if your cat is rolling along brilliantly, as soon as the timer goes off, end the training session. Pushing sessions out will prompt your cat to get bored.
Watch your cat. If kitty walks away, you're done. NEVER force your cat back into training. You'll suck all of the fun out of the game and make it a chore. (And how much do you enjoy chores?)
Mastery first. Don't introduce a new cat trick until your cat's mastered the first trick. They'll get confused.
Fun above all. Sure, cat tricks are cool, but the real goal of training is spending time with your cat. The learned behaviors are a side effect. So relax and enjoy the ride. You'll both get more out of the training if you focus on the fun instead of the results.
7 Easy Cat Tricks to Get You Started
Clicker training gives you the tools you need to shape countless new behaviors. If you have the patience – and your cat has the interest – the possibilities are endless. When you remain positive and make those training sessions a game, you'll find your cat racing to participate. You'll also find them demonstrating their new cat tricks outside of training time. Make sure you reward them and heap on the praise. (Think of it as the equivalent of a small child showing off their new drawing) These seven cat tricks will lay the foundation for future training.
So let's get started!
Cat Trick #1: Come
If you want to baffle all of those cat haters out there, teach your cat to come when called. You'll stun them into silence when your kitty prances into the room on command. Beyond the perfect cat trick to liven up a party, there's an important aspect to this training. The worst thing that can happen is a cat slipping out the front door and becoming lost (or even disappearing inside the house). The ability to get your cat to turn around and come back to you is invaluable. So while you'll enjoy shocking your friends, you'll also give yourself peace of mind.
Stand up and move away from your cat.
As your cat comes toward you (even a little bit), click and give them a treat.
While they're eating, move to another spot in the room. This time, provide a verbal cue such as "Come" or "Here." (Avoid using their name – I'll explain in a moment)
When they look up and come toward you, repeat the click and treat.
Continue for the full 15 minutes.
As you progress, move into another room for your cat to "Come."
When your cat consistently comes on command, fade out the clicker. (Keep up those treats!)
You don't want to choose your cat's name as you'll end up speaking the name in casual conversation. When your cat shows up, thinking you wanted to see them, it'll create confusion. Selecting a command establishes the difference in their minds. Remember, training cat tricks is intended to END frustration, not generate it.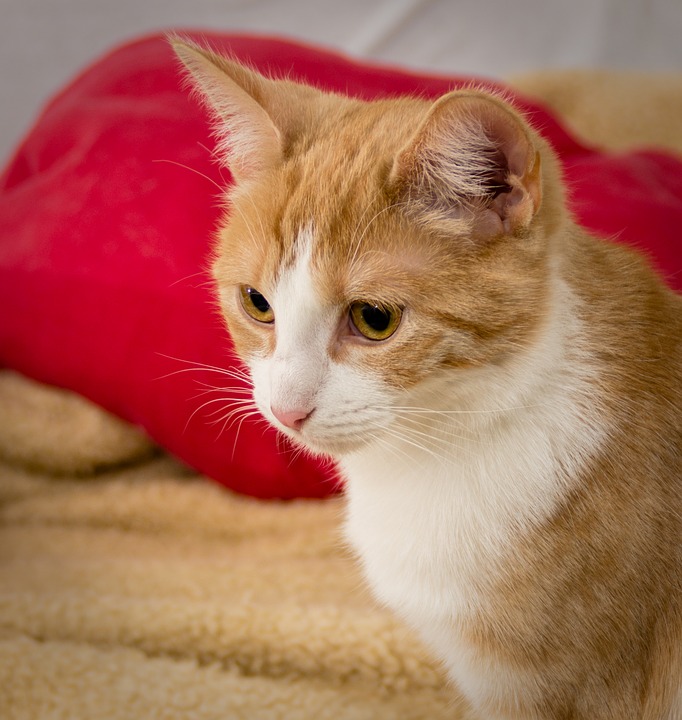 Cat Trick #2: Sit
A cat sitting on command? Sure, why not? If you're willing to take the time with the training, this is one of the simplest cat tricks to work on. And while you'll certainly entertain your family and friends by demonstrating your kitty's new ability, there's a practical component, as well. For example, if you normally feel paws patting at your leg during meal prep, a quiet command of "sit" encourages your cat to wait until their dish is set on the floor. (All the best cat tricks have a functional side!)
Sit near your cat on the floor. If the floor isn't comfortable for you, choose a raised surface you don't mind your cat exploring.
Extend one hand with a treat so your cat can see it.
Your kiddo will walk toward you. As they do so, lift the hand over their head and say, "Sit."
Odds are, your cat will sit naturally. As soon as the kitty bum hits the floor/surface, click and give the treat.
Repeat 5-6 times, then end the session. (Sitting is a tedious task, so DON'T continue for 15 minutes!)
When your cat consistently sits on command, fade out the clicker. (Keep up those treats!)
If you want to go the extra mile to a "Sit Pretty," you need only lift the treat higher so your cat goes up on their haunches. When your cat is already sitting, say "Pretty" and lift the treat – click when they go up. The remainder of the training is the same.
Cat Trick #3: High Five
Once your cat has the "Sit" command down, you can move to the "High Five." This adorable cat trick allows you to touch your cat's front paws – without a fuss! If you adopted an older rescue or missed critical kitten socialization time, teaching this behavior smooths potential touchiness about cat feet. Then, when it comes time to trim cat nails, the "High Five" can calm your cat down. Or you can simply record adorable videos to share with everyone on Instagram. Either way, it's a win!
Like sit, you and your cat need to be on the same level – the floor or a raised surface.
Hold a treat out in front of them at your cat's shoulder height.
When they stretch out a paw toward the treat, touch the paw with your hand, then click and give the treat. (Keep in mind you ONLY click and treat if the paw comes out to the treat – not the mouth)
Your cat will slowly learn they need to touch your hand first to get the click/treat.
Take the treat out of your hand and repeat the process.
Start holding your hand palm out and add the cue "High Five."
Once they consistently touch your palm on command, fade out the clicker. (Keep up those treats!)
Have patience if you're teaching this particular command. This isn't the easiest of the cat tricks for your kitty to pick up, but it WILL challenge their feline brain.
Cat Trick #4: Beg
Teaching the "Beg" command comes with some responsibility – and some controversy. While no one's going to deny your cat will look adorable begging for treats, do you want to teach your cat to follow you around, pressing you for snacks all the time? You might find yourself creating a monster. Think through your cat's eating habits (and weight) before you leap into training this particular cat trick. Once your cat learns to "Beg," you may find yourself working to phase the behavior out.
Your cat should already know the "Sit" command.
Hold a treat above your cat's head and say, "Beg."
When they stretch up on their hind legs to reach the treat, click and give the treat.
Remove the treat but continue giving the command. Click and treat.
When they consistently beg on command, fade out the clicker. (Keep up those treats!)
There IS a semi-practical application to the "Beg" cat trick: you may start noticing issues with your cat's hind legs. As cats age, they start developing arthritis, the same as dogs (and humans). If your cat's never had a problem begging before, but now they're reluctant to stretch up on their hind legs, odds are they're painful. You should schedule an appointment with your veterinarian or consider glucosamine supplements.
Cat Trick #5: Jump Through a Hoop
Jumping through hoops may sound like genuine cat tricks, but you want to encourage exercise in your feline friend. If your cat masters this simple action, you can consider moving forward to more difficult tasks – priming them for cat agility courses. Any breed of cat is welcome to participate in these competitions. If your fluffy companion has excess energy to burn and doesn't mind being the center of attention, agility may be the perfect activity for the two of you. And it starts with a simple "Hoop" command!
Hold a small hula hoop between you and your cat.
Extend a treat in front of the hoop.
When your cat walks through the hoop, click and give them the treat.
Add in the "Hoop" command as your cat walks through.
Stop holding the treat out in front.
When your cat consistently walks through the hoop on command, fade out the clicker. (Keep up those treats!)
You can add a second hoop, a tunnel, ramps, or even a wall to jump. Take your inspiration from normal cat activities: climbing, running, pouncing, and ambushing. The sky's the limit!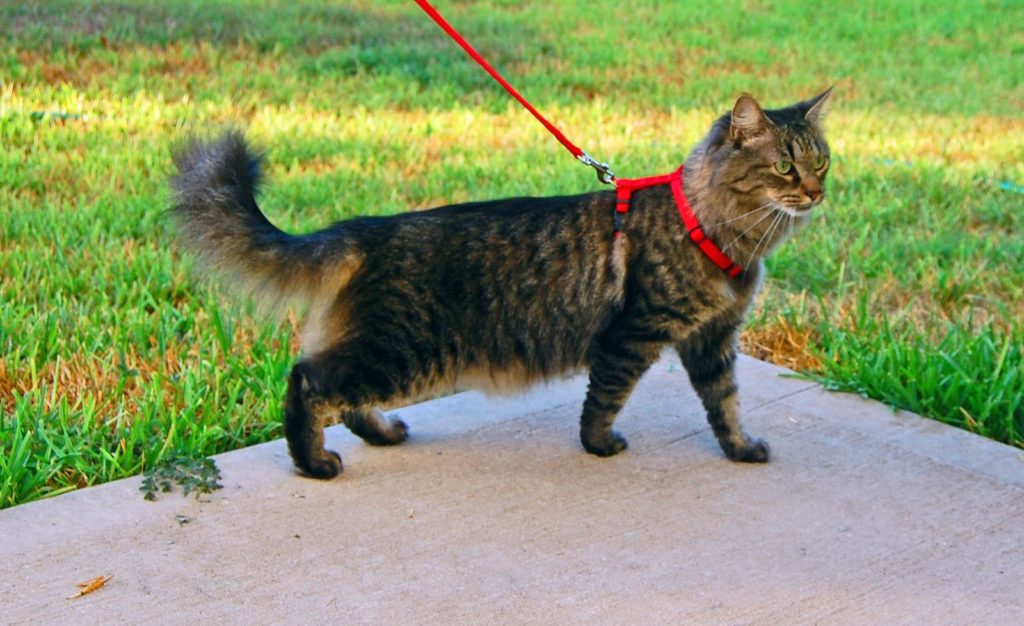 Cat Trick #6: Walk on a Leash
Walking your cat on a leash may not seem like much of a cat trick, but it's one of the most practical things you can train your cat to tolerate. Your cat will have a chance to explore the outside world safely. When traveling, you can make pit stops without fear. Your cat won't find themselves confined to a pet carrier the entire time.
You WILL need to purchase a harness designed specifically for cats. Dog harnesses don't sit properly against your cat's trachea, and collars prompt immediate resistance. You should be able to fit two fingers under the harness bands if it's fitted properly. (You want it snug, but not strangling) Once you have that cat harness, though, you're set to start the training session – and you don't even need a special command this time!
Place the harness on your cat INSIDE.
Give treats and praise as your cat adjusts to the presence of the harness.
As your cat walks around, continue the treats and praise. (Not all cats respond positively at first – prepare for the paralysis flop)
Attach the leash – continuing treats.
Start in a safe, quiet location such as the backyard. Allow your cat to decide how much you walk. (It may not be far) Keep up the reassurance and treats.
Slowly increase the distance.
Move to the neighborhood sidewalks.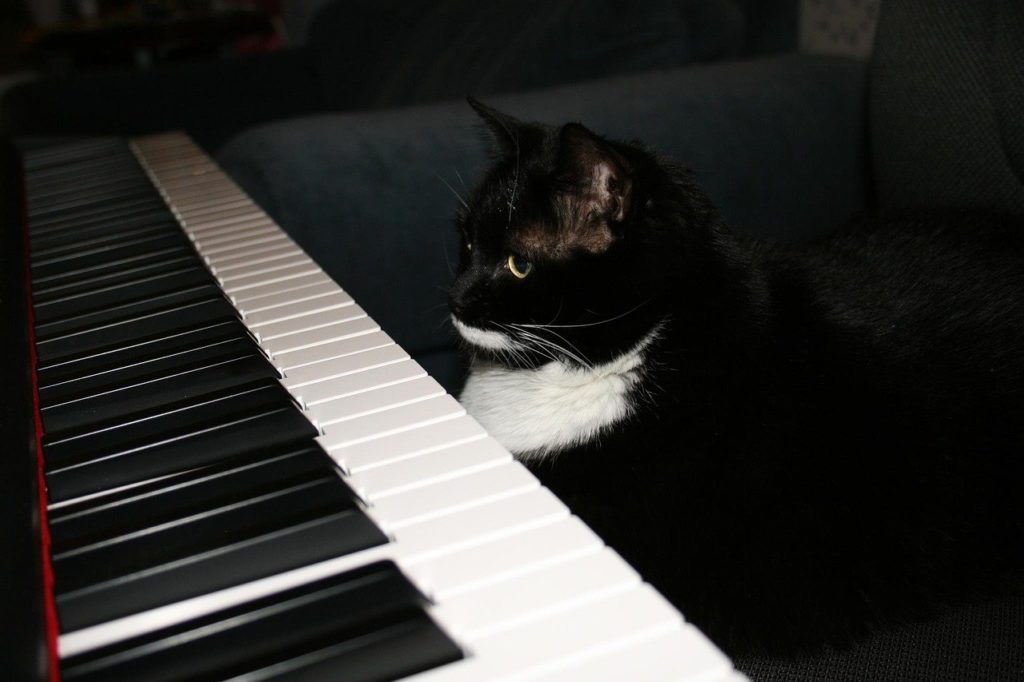 Cat Trick #7: Play the Piano
When it comes to the ultimate level of cat tricks, nothing beats playing the piano. Not high on the practical side (although some owners found their cats used it to get their attention), but off the scale when impressing the neighbors. You'll need plenty of treats, a bucket of patience, and a piano (possibly the most difficult of the requirements). If you want to challenge your cat's brain and dexterity, though, you can't beat this nifty cat trick. Just make sure your kiddo isn't averse to noise. Then get the camera ready to show off your new feline virtuoso!
Get your cat to sit on the piano bench. Click and treat.
Hold a treat over the piano keys. If there's ANY movement over the keys, click and treat. (If your cat's willing to touch the keys right away, you're ahead of the game)
Repeat until your cat willingly presses down on the keys.
If you get audible "plinks" from the presses, give TWO treats. (Only ever click ONCE!)
Place stickers on the Middle C, D, and E keys.
You want to encourage your cat to hit those keys. Start by holding treats over that section of the keyboard.
As your cat recognizes the stickers, move toward encouraging them to hit them in the order of E, D, C. (The opening bar of "Three Blind Mice")
Continue working until your cat hits all three keys on their own.
Is this the most difficult of these cat tricks? You bet. Is it impossible? Nope. It's included in Karen Pryor's Clicker Training for Cats. You'll spend more time teaching this one than some of the others, but the reward when your cat plays that opening bar? Priceless.
Introducing…Mittens!
Cats get a bad rep as aloof, untrainable lumps. It's unfair – and incorrect. If you have patience and drive, these cat tricks are a cinch to teach your kitty. And the majority of them have practical applications! You can impress your friends with your kiddo's new repertoire, but you'll also improve your cat's life (not to mention yours!).
So roll up your sleeves, break out that clicker, and get to work. You and your cat have some rumors to lay to rest!