There are cute cats.  There are cute kittens. But this rescued kitten wearing a sock fashioned into a turtleneck sweater might be one of the most adorable things we've ever seen.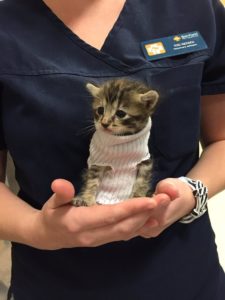 Somebody found Pipes the kitten in the aftermath of Hurricane Matthew in Raleigh, NC, and gave her to a local PetSmart.  To make Pipes feel more comfortable in her new home, the PetSmart employees fashioned a turtleneck sweater out of a sock to keep her warm.
When Pipe's future owners came into PetSmart, they weren't expecting to take home a cat.  But when an employee asked Rodrigo Greco and his family if they were interested in adoption, they decided to check out the scene.  Once they laid their eyes on Pipes, with her innocent look wrapped in a tube-sock sweater, they couldn't resist.  You'd be hard-pressed NOT to adopt this little kitty, too – just look at these pictures:
Luckily, a Twitter user, @crysomemore, took pictures of the cat and shared the story with the world.
"The vet assistant brings [Pipes] out and both [Greco] and his kids are OBVIOUSLY IN LOVE.  vet asst. tells us someone brought her in yesterday during the hurricane storms.  we all pet and coo over the kitten and I take the pics above."
@crysomemore was worried that it might fall into the wrong hands since the shelter was giving the kitten away for free.  Luckily, the Greco family seemed like a good fit since they looked like a loving family.  @crysomemore continued: "They bought this hilariously huge and fancy litter box, and they were all extra excited, so I think Tube Sock Sweater Kitten is in good hands."
"People need happy stories after all the sadness of the hurricane," Greco told CNN.  We couldn't imagine anything better to brighten up people's day than Pipes!  And she now has a new friend Amelie, the Greco's dog!