Is the dress black and blue or white and gold? Where is the hidden cell phone on the rug? In the past few years, the Internet has developed a strange obsession with optical illusions. These illusions tend to get two reactions: A) "OMG, THAT'S INSANE! I CAN'T BELIEVE THAT IT TOOK ME TWO HOURS TO FIGURE IT OUT!" and B) "meh." In the case of the most recent viral "illusion," it doesn't really matter if you are in the "A" camp or the "B" camp because at least you'll come away having seen a picture of an adorable animal. The illusion in question challenges the audience to determine whether the pet is a dog or cat.
The dog/cat was shared by Twitter user n20 (@1evilidiot) with the caption: "Her.- do you have a dog or a cat? me.- I don't know."
The tweet has been re-tweeted over 13,000 times and garnered a host of confusing comments.  Some people really had no clue:
@1evilidiot @Jenthulhu Yeah, what IS that?

— Barb Leflar Jackson (@bleflarjackson) November 5, 2016
@1evilidiot @SimonHoneydew Right this is really bugging me. WHAT IS IT?

— Chloe Myatt (@chloejmyatt) November 6, 2016
Some thought it might be neither a dog nor a cat:
@1evilidiot @miss_vivienne it's an owl.

— (((FreebieBean))) (@FreebieBean) November 4, 2016
And then there were the people who didn't care at all and just wanted one of their own:
@1evilidiot @Rec_lock9 Whatever it is, it's perfect.

— Eric R. (@grey603) November 4, 2016
There were others, however, who DID know. And they knew because this specific pet is actually an existing Internet star in his own right (he has 165k followers on Instagram). His name is Atchoum, and he's a…CAT! So why does Atchoum look so strange and dog-like?
Atchoum
As his website explains (yes, he has a website), he has a rare congenital disorder called hypertrichosis. It's a condition in cats (and humans) that causes excessive hair growth and, in the case of cats, thickening of the claws. A more derogatory term for the disease is "werewolf syndrome" because of its looks on humans. Atchoum's owner says that "it's less scary than it sounds." Apparently, Atcoum is also the only cat known to have the disorder, so there's no certainty about how it will affect him as he ages.
Atchoum's owner is a groomer but prefers him to wear his special hair proudly by giving him the "mad scientist" look. Atchoum's owner created Atchoum's Facebook page as a bet that he couldn't get more than 100 Facebook likes. Well, the person who challenged Atchoum lost in a big way. Atchoum has 65k followers on Facebook and even more on Instagram! And it's no wonder! This guy is one of the coolest-looking cats around. Check out some of our favorite pics from his website and Instagram below!
A lot of people have compared Atchoum to other more familiar people and animals.  Here he is compared to Einstein:
And he looks alarmingly similar to an Ewok from Star Wars:
And with those starkly yellow eyes, he doesn't look far off from an owl:
But beyond these comparisons, Atchoum is just incredibly cute. He's definitely fond of lying around the house like any other cat.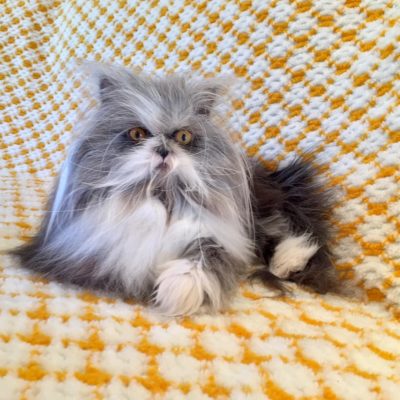 And he seems to like dressing up in bow ties to match his mad scientist look: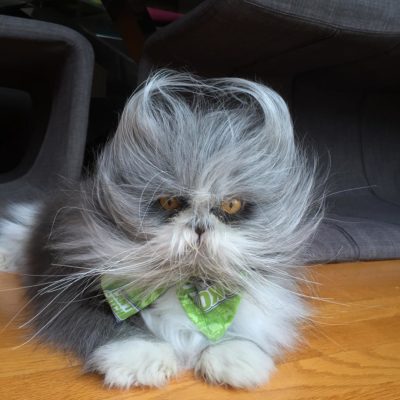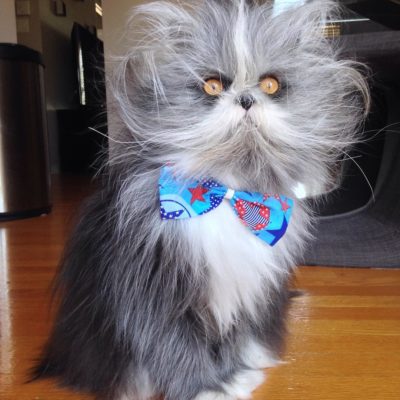 But he also does tons of other cute stuff, and that's why people love him!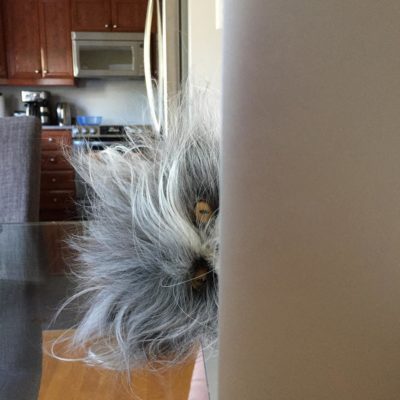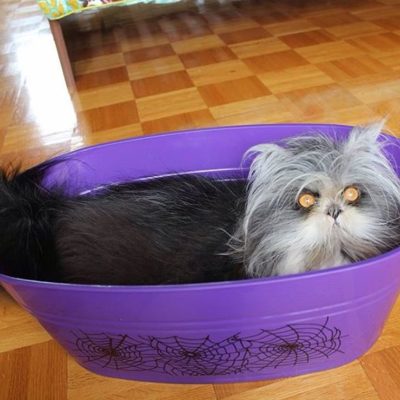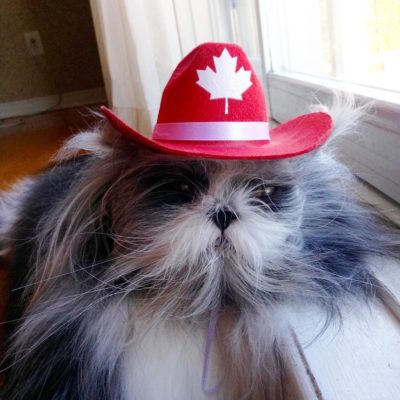 If you love Atchoum as much as we do, you should definitely check him out on Instagram for more!