Many dogs love a rousing game of fetch. (Our dog hasn't figured out why we throw things across the yard) Depending on the breed, your dog may last a few minutes or the entire afternoon. Your arm may NOT last that long, though. How to balance your dog's enthusiasm with the ache in your rotator cuff? Tennis ball launchers for dogs let even the most active canine enjoy their daily games.
Making Fetch Happen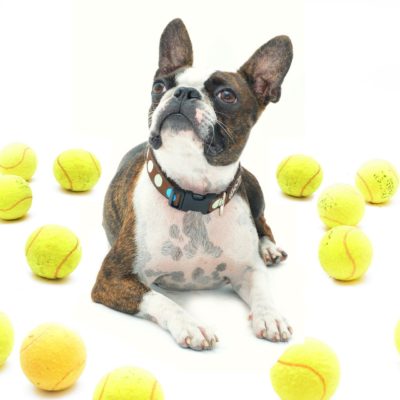 Fetch dates back to the beginning of the human-canine bond. Tennis balls may not go back that far, but small, round objects have always been favorites. They bounce along the ground, they're easy for a dog to grab hold of, and they're large enough to prevent a choking hazard. We prefer tennis balls as the fuzzy texture absorbs some of the drool, preventing a slippery coating of slobber (most of the time, anyway).
Fetch Advantages
Dogs love playing fetch for the rush of endorphins. Endorphins are the "happy" neurochemicals. Each time your dog catches and retrieves that tennis ball, they feel the reward of a job well done. Even if it's a hundred times in an afternoon. While your arm may twitch at the thought of more than a couple of throws, tennis ball launchers guarantee your dog as much happiness as they crave.
Playing fetch provides your dog with other positives you may not recognize.
Anti-Anxiety: Whether you supplement your dog's day with calming treats or not, they may exhibit signs of anxiety. Heightened tension through the day calms with that boost of endorphins. Fetch is a natural anti-anxiety medication.

Boredom Cure: If you're not leaving out puzzle toys while you're working, your dog might spend their time bored. Breaking out that tennis ball launcher amps up their excitement and breaks the boredom cycle.

Engaging the Mind: Regardless of their age, dogs need mental stimulation. Whether you're using manual or automatic tennis ball launchers, your dog needs to figure out where the ball's going to land. It engages their minds and provokes new thought patterns. You're exercising their brains WITH their bodies.
Choosing a Tennis Ball Launcher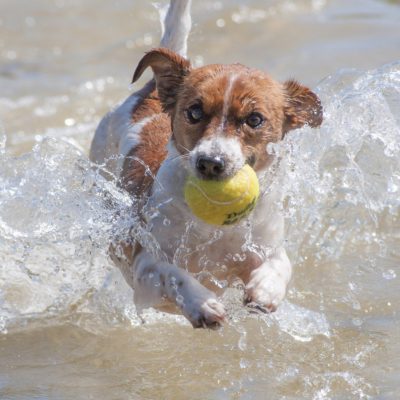 Tennis ball launchers for dogs come in manual and automatic forms. Manual launchers require some muscle on your part, but LESS than if you toss the ball on your own. Your dog gets more exercise as a result, especially since you won't tire as quickly. You also get more distance than you'll achieve by yourself.
Whichever type you opt for, keep the following features in mind:
Power Source: If choosing an automatic tennis ball launcher, you'll need some way to power the machine. Cords limit outdoor use. Batteries need replacing. Weigh both options. (And, of course, if you're going for a manual tennis ball launcher, the power comes from YOU)
Ball Size: Tennis ball launchers usually work with a standard tennis ball. This works fine for most dogs, but smaller breeds might have trouble picking up the ball. Check to see if your launcher will handle a mini ball to allow your dog to enjoy the fetch game.
Distance and Angle: Most automatic tennis ball launchers let you adjust the shot's angle and distance. This allows multiple dogs to participate in the game at one time. Or it just keeps your dog's mind engaged as they won't know where the next ball will end up.
Inside or Outside? The weather doesn't always cooperate, but your dog still wants to play. Try to look for a launcher you can adjust for inside use (without damaging anything).
Best Tennis Ball Launchers for Dogs
Some of the most hyper breeds out there will play fetch until they drop. Or at least until YOU drop (which usually happens first). You don't want to disappoint your Border Collies, Dalmatians, Huskies, Retrievers, or Spaniels. Tennis ball launchers for dogs take the pressure off your arms while still letting your dog get in their exercise. Just remember not to overdo it. Your dog may be prepared to play for hours on end, but their body needs a break. Keep playtime within a reasonable limit and stop as soon as you see signs of tiring.
Best Manual Tennis Ball Launchers for Dogs
Maybe you enjoy being part of the fetch game. Your arm and shoulder just need a break. Manual tennis ball launchers transfer the bulk of the throwing work into the launcher. They often take away the task of touching that damp tennis ball, too. You'll increase your throwing distance from a few feet, letting your dog stretch their legs to the maximum. It's a perfect compromise.
Chuckit! provides a lightweight handle and claw that cradles the tennis balls before throwing. You'll get hundreds of yards of distance with each throw – the perfect outdoor toy. The long reach promises you'll never have to touch another slobbery ball. And the balls are a little smaller than a standard tennis ball, allowing small breed dogs to play without a problem.
Downsides? The durability of this tennis ball launcher isn't the greatest. If you're rough on it, the handle can snap. Also, you DO have to use Chuckit!-brand balls, as ordinary tennis balls won't fit inside the claw. They're not horribly priced, but it's an extra expense.
Hyper Pet's K9 Kannon uses rubber bands to operate the tennis ball launcher. You get two spaces to store the balls when not in use, and the muzzle-loading keeps your hands dry and clean. If you pull back the handle all the way, the mini tennis ball launches a full 75 feet! (So maybe ease up if you're using it in the house)
The downsides? For a manual tennis ball launcher, this option's on the pricey side. You only get a single ball, too, so you have to pay more for extras.
Do your kids want to join in on the games of fetch? Hyper Pet has the perfect answer. Their telescoping tennis ball launcher adjusts to different sizes to accommodate different people. The grip's comfortable, and there's even room to hold an extra ball. This way, you can toss out two balls at one time for multiple dogs to chase. Again, the ball's on the small side to keep the game open to dogs of all sizes.
So what are the downsides? You won't get as much distance from this tennis ball launcher. It'll go farther than your arm alone, but it falls shorter than the Chuckit! And, again, regular tennis balls don't fit in the cup, so you have to use their balls. Quality came up for a few people, so take it easy. (It makes an excellent choice for the kids to use, though!)
Your arm's had enough. You're not up to throwing of any kind. Not a problem – Nerf has you covered! Yes, Nerf; they designed an option just for dogs. You get four Nerf tennis balls (one designed for distance and three with squeakers inside). Just press the muzzle over the ball to load it, and then launch it with the trigger. You don't have to touch the ball once! You'll get between 50-60 feet with every launch.
Downsides? There's no holder for those extra balls, so you'll have to touch them eventually (or leave them on the ground). Some people ended up with malfunctioning blasters. However, Nerf's a great company, and if you get a faulty blaster, they'll replace it.
Best Automatic Tennis Ball Launchers for Dogs
For some people, automatic tennis ball launchers make the most sense. If you have an injury or disability that prevents you from participating in a game of fetch, the machine takes over. You can set up the launcher for your dog and watch them play. You'll need to provide appropriate power sources, and you'll still need to set time limits.
Using Automatic Tennis Ball Launchers
Unlike manual tennis ball launchers, automatic machines require some desensitization and training. These AREN'T quiet machines. They also don't load themselves. You'll need to teach your dog the launcher isn't out to get them and get them to drop the returned ball into the funnel. It's a careful process, but you can walk your dog through things.
Keep the fetch sessions to no more than 10 minutes, and restrict them to THREE times a day. If you overdo things, fetch will stop being a game and turn into a chore. You don't want that.
Keep your treats close at all times. You want to reward all positive interactions. Remember, the automatic tennis ball launcher makes noise. You don't want your dog to be afraid of it.
If your dog walks past the machine at all, provide praise and treats.
Once your dog starts bringing the ball back, give the command to "drop it." If they drop the ball even NEAR the machine, give a treat and praise. You can work on the funnel later.
Slowly move closer and closer to the funnel. Your dog will learn to drop the ball into the funnel. Keep those treats coming as they progress.
Eventually, your dog will learn that a dropped ball in the machine results in a new ball coming out.
Always keep the game upbeat and cheery. You don't want them to hate their new toy. Where you can, vary those training sessions, so it doesn't become routine. Eventually, take the automatic tennis ball launcher to the park, so it's in a new place. You'll see your training results improve.
The iFetch tennis ball launcher works off rechargeable batteries. This allows you to take the launcher wherever you go, even when you travel. You can adjust the launch distance from 10-40 feet, moving between indoor and outdoor use. You can also choose a random setting, keeping your dog on their toes as to where the next ball will go. The mini tennis balls are small enough for every dog to enjoy the game. The wide funnel opening makes it easy for your dog to reload the launcher, too.
Downsides? As the battery runs down, the throwing power declines. You'll want to stay on top of charging so your dog doesn't end up disappointed. The durability of the balls isn't great, so you'll have to buy more. And standard tennis balls won't fit in the machine, so you'll have to go with the company's balls.
iFetch Too is the upgrade to the iFetch. At long last, you can use standard tennis balls! You also get a set of bright-colored balls when you place your original order. The same adjustable distance of 10-40 feet (and that random setting) still apply, letting you switch from indoor to outdoor use. You also get the same rechargeable battery.
The downsides? There's an opening, but the funnel disappeared, making it a little more challenging for your dog to learn the return training. As the balls get chewed up, they also get caught in the machine's mechanisms. And, again, the throwing power diminishes with the weakening battery – keep an eye on your charge.
Fetch!
Playing fetch isn't just fun for our dogs. We love watching the delight as they grab that ball and race back to us. It's frustrating when the aches in our arms put an early end to the game. Tennis ball launchers for dogs take those pains out of the equation.
Now your dog can fetch to their heart's content. You'll probably even find yourself smiling in response. So grab that tennis ball, and let's hit the park!