If you've stopped by an agility competition, you've laid eyes on a Border Collie. These sprightly pups dominate the action, burning up a seemingly endless supply of energy. And when it comes to herding, no other breed does it better. The Border Collie is the World's Greatest Herder. They dominate sheepdog trials in the British Isles – and have for over a hundred years. With a combination of trainability, high intelligence, and an active streak, they're spunky dogs many people fall in love with. But if you want to get the most out of your Border Collie lifespan, you need to do some careful background research AND meet their exacting lifestyle demands.
The Perfect Herding Dog
Borders trace their ancestry to the Roman Empire. In the year 43 (yeah, that far back!) Emperor Claudius conquered Britain. The legions brought livestock with them and herding dogs to manage the flocks. Those first dogs were large and heavy-boned (nothing like the modern Border Collie).
The Roman Empire fell apart, making room for new conquerors. Viking raiders took their turn in Britain, bringing a smaller, lighter spitz-type dog with them. (Eventually, the Viking dogs gave rise to the Icelandic Sheepdog). The two herding dogs crossed, yielding a compact, agile dog capable of racing and bouncing through Scotland and Wales's rocky terrain. The dog learned quickly, and shepherds didn't need to worry about supervising them. They'd created a super herding dog – the Border Collie.
In 1995, Borders joined the AKC in the Herding Group (shocking, I know). And they continue to work with farmers around the world. These pups keep sheep and cattle on track. With extreme intelligence, farmers and shepherds leave them to their tasks in complete confidence. And that endless energy works equally well in agility, obedience, and flyball competitions.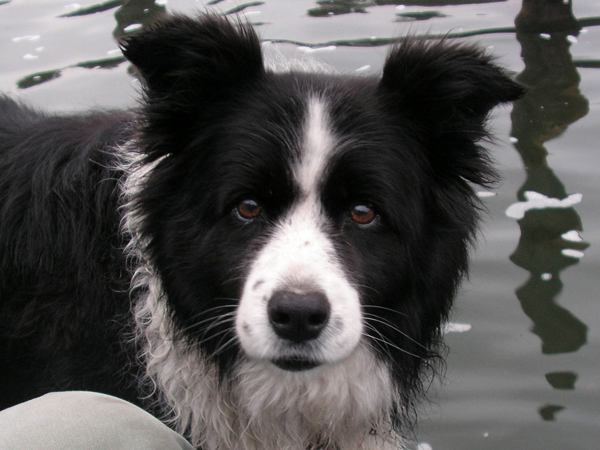 The Border Collie
Border Collies come in at a medium size. However, they WON'T work in a city or apartment setting. With that athletic drive, you need a TON of room for your Border to expend all of their energy. An average-sized yard won't cut it. You may not need to invest in a farm or ranch, but if you can't find a way for your Border to run off that drive to move, you'll end up with misbehavior. Worse, you could find yourself confronting health problems that will impact your Border Collie's lifespan.
They're perfect companions if you have an athletic streak of your own. You need to be mindful of the outdoor temperature, though. Borders have a double hair coat designed to allow them to cope with changing weather conditions. Helpful for bitter winters but NOT fantastic in brutal summers. Also, you need to prepare yourself for the shedding season. Borders produce a TON of fluffy hair you'll need to cope with. If you have even a hint of allergies, these aren't the dogs for you.
Line 'Em Up!
Border Collies herd. The instinct runs through their veins. And in the absence of an official herding job, they'll look for something – ANYTHING – to herd. This may be other pets in the household, children, or YOU. If the chosen "herdees" don't mind, you're fine. But sometimes nipping's involved (or your cat isn't impressed with getting corraled). Prepare to intervene. (And if you think you can UNTRAIN herding…yeah, that's not going to happen)
Accompanying the herding, you'll see the "herding eye." Borders take on an intense gaze. It's unique to the breed, but people unfamiliar with the stare may feel edgy. That intelligent focus CAN get unnerving when it's trained on you. You'll want to warn strangers.
You'll also need to accept the Border need to CHASE. It's a compulsive behavior (kind of like the herding). They'll go after squirrels, shadows, and cars. Make sure you have fences in place, or you could face a dramatically shortened Border Collie lifespan.
The Border Collie Lifespan
You may be bracing yourself for the worst. After all, Bernese Mountain Dogs are athletic, too, and they have one of the shortest dog lifespans. However, the Border Collie lifespan falls into the average range for medium dogs. These pups live between 10-15 years, with some reaching all the way to 17 years. The biggest concern with their lifespan is their health problems are almost all genetic. If you're considering adding a Border to your life, you need to sit down and have a long discussion with the breeder. A responsible breeder will happily show you the documentation of all of the testing for your puppy, the parents, and all of their relatives. It's the only way to reduce your concerns of getting a Border Collie with a potential lifespan at the short end.
Unfortunately, not every health condition has a test. You have to do a little rolling of the dice. But a reputable breeder keeps track of the health history of their dogs. They'll know what developed with the puppies from their lines. You'll get enough information to have a little preparation. This is why it's so important to sit down and speak with the breeder. If you can't get full health histories, odds are you're dealing with someone from a puppy mill. You need to run in the other direction as fast as you can.
Border Collie-Specific Conditions
Many purebred dogs have the potential to carry genetic conditions. However, when you consider the Border Collie lifespan, there are several health issues specific to these dogs. You want to make sure you look for test results (where they exist). And you need to research and prepare. Genetic conditions CAN skip generations.
Collie Eye Anomaly (CEA): CEA impacts the sclera (the white outer layer of the eye), choroid (the tissue that supplies oxygen to the retina), and retina. CEA starts in puppies and leads to blindness (mild) or possible intraocular hemorrhage (severe). There's no cure, though severe cases require surgery to lessen symptoms. There IS a test for CEA, though.
Deafness: Border Collies can develop two different kinds of deafness:

Double Merles or Pure Whites: Dogs with these coats tend to develop congenital sensorineural deafness (the nerves fail to send signals) at birth.
Adult-Onset: Within 1-8 years, dogs gradually lose their hearing.

Trapped Neutrophil Syndrome (TNS): Neutrophils are white blood cells formed in the bone marrow. Borders with TNS can't release neutrophils into the bloodstream. As a result, they have trouble fighting infections. This results in a much lower Border Collie lifespan. Luckily, there IS a DNA test.
Neuronal Ceroid Lipofuscinosis (NCL): NCL crops up in show Border Collies. The dogs develop severe neurological issues that result in death by the age of two. It's rare, luckily.
Border Collie Collapse (BCC): Many people refer to BCC as the "wobbles." This hits working dogs. Following high-intensity exercise, they lose focus, become disoriented, become unsteady or drag their hind legs, and need to lay down. It's insidious, and there's no treatment at the moment, though there IS a test available.
Other Conditions
The Border Collie lifespan has a few other conditions that strike some blows. You want to make sure you add them to your list for your chat with the breeder. They're not always genetic, but many involve testing that a reputable breeder will undertake. The Orthopedic Foundation for Animals takes joint and eye issues seriously in dogs. And since you're looking at an athletic dog with keen eyes, you want to check those boxes.
Progressive Retinal Atrophy (PRA): As you might guess, PRA causes the retina to disintegrate. Borders lose night vision first, then all of their sight. You CAN test for it. And while there's no treatment, the high intelligence of Border Collies alleviates the impact on their lifespan. They learn to adapt to the loss. You need to install safety gates and use a shorter leash, but they'll quickly get the lay of the land.
Elbow and Hip Dysplasia: Yeah, dysplasia targets A LOT of dogs – up to 70%! Elbow is less likely to show up in Borders than hip, but you want to make sure you check for both.
Osteochondritis Dessecans (OCD): OCD slowly breaks down the cartilage in joints. What results is a lot of pain and instability. OCD can show up in puppies, too. You'll need to look at surgery or arthroscopy to help your Border feel better.
Epilepsy: Epilepsy is a genetic condition, though not specific to Border Collies. Dogs develop seizures, and the first one can show up as early as six months. There's no way to test for epilepsy (in any dog). You'll need to learn how to handle seizures (they look scary, but you CAN do it), and your Border will need medication to help minimize their frequency. (It's important to understand you're NOT stopping them)
Active Dog, Healthy Dog
All dog breeds need a health regime to stave off obesity and its attendant problems. But when you look at the Border Collie lifespan, physical activity becomes crucial. If your dog doesn't get their proper daily exercise, they'll get frustrated, bored, and even depressed. This can then turn into health problems. Borders are one of the dog breeds that NEED a thorough program of mental and physical stimulation. A few walks each day aren't enough. You need to add games of fetch, swimming, and training into the mix.
Failing to engage the active brain cells in your Border will lead them to destructive behavior. They WANT to problem-solve! And lying around on the couch doesn't appeal to them. If you don't give them puzzles to figure out, they'll go looking for something to challenge their minds. Which is what gets them into trouble and cuts down that average Border Collie lifespan. Remember, Borders have a weakness for going after squirrels. What are you going to do when your dog decides they need to figure out a way to get the squirrel on the other side of a busy road?
Keep your Border Collie out of trouble by giving them work to do. A happy, healthy Border Collie stays active and challenged.
World's Best Herder
Border Collies were born to the herding life. They have muscular bodies designed to run, jump, and practically dance. You have the potential to find yourself with a training partner for any competition you can dream up. But if you don't do careful research into your breeder, you may not enjoy the full benefit of that Border Collie lifespan. Not to mention keeping up with the intense activity and intelligence demands.
Make sure you have the land – and time – for your Border. Have tasks and energy to share with your new dog. Maybe even consider giving them chickens to herd. (Chickens don't mind much) Your happy, bouncy herder will love you forever.