Whether you're counting the days to your vacation at a dog-friendly log cabin or packing for a business trip, your plans might include a plane flight. And more and more people are taking their dogs with them. Why leave your canine companion behind? There's nothing wrong with flying with your dog. However, if you're expecting to just show up at the airport with your pooch in tow, you're in for a surprise. Flying with a dog requires a LONG list of preparation, and odds are some of the checklist items might not have occurred to you. Good thing we're offering a doggie-flight primer!
The "Good Ol' Days"
Once upon a time, flying with a dog took no work at all. You hid a tranquilizer in your dog's favorite treat, skipped the meal before their flight, and then tucked them into any old carrier. The airline then put them into the luggage compartment without a second thought. Of course, once upon a time, you could also smoke on planes. And the health results came out the same: BADLY.
We've come a long way from the "good ol' days." And most of those practices? They've ended up tossed in the dumpster where they belong. Because, unfortunately, dogs suffered injuries, illnesses, and even death. Airlines ran a critical eye over their pet policies, and they started cracking down. The result? A lengthy list of Do's and Do Not's that makes for a safer flying process – for everyone. It means you need to start thinking about flying with a dog WEEKS ahead of time (if not months), but it increases your dog's odds of coming through the flight healthy.
The Health Risks of Flying with a Dog
No one wants to leave their beloved pup at home. And odds are you've experienced a flight where someone had their pet accompany them. So why did the airline reject your dog's request to fly?
First and foremost, all dogs MUST be at least eight weeks old. No tiny puppies get approval to fly. Ever shared a flight with a baby? They struggle to cope with the sudden pressure changes. Puppies undergo the same problems. So let your precious baby come of age FIRST. Then you can consider a flight.
The No-Fly Breeds
You went through the proper preparations. You checked the boxes. And your airline informed you that flying with your dog won't happen. So before you send an angry letter to the internet, take a moment to breathe. Because there are breeds that NO airline allows to fly.
Our beloved brachycephalic breeds? The Pugs, Bulldogs, and Shih Tzus that we adore so much? Yeah, flight and compressed airways DON'T mix. These dogs struggle to control their internal body temperatures on the ground, under the best of circumstances. Put them on a plane, with pressure changes and increased stress? They don't stand a chance. Brachycephalic breeds topped the list of unintentional deaths in airline history. As such, airline carriers will NOT allow these dogs to fly. They will even refuse to accept a breed mixed with one of these dogs to board a plane.
It's tempting to say the airlines have a cruel streak. Or you can claim they're unreasonable. The truth is, they're looking out for your dog. That squishy-face and flying? It's a terrible combination. Consider an alternative means of transportation.
The Temperature Game
Contrary to popular belief (and internet rumor), the temperature in the luggage compartment and cargo area of most flights equals that of the passenger cabin. However, airlines DO consider the outside weather conditions when you request to fly with a dog. Summer and winter, in particular, start raising red flags. If the mercury in the thermometer climbs too high (or drops too low), the airline reserves the right to cancel your dog's "ticket" to fly.
Again, they're not acting of spite. They don't want to see animals succumb to illness.
"In many aircraft, it's the same air in the cabin that circulates through the cargo area. Captains are always made aware when live animals are on board – how many, and what kind, and where they are in the aircraft – because they can control some of the air temperature and airflow in the bins, as they're called, and cargo area."

~Sally Smith, LVT, President of Airborne Animals, LLC
You can help by choosing reasonable flight times:
In the summer, fly as EARLY as possible. Sure, that means waking up before the crack of dawn, but the temperature won't reach its worst until after you've touched down.
At the opposite end, fly in the afternoons in the winter. You give the sun a chance to get over the horizon and thaw everything out.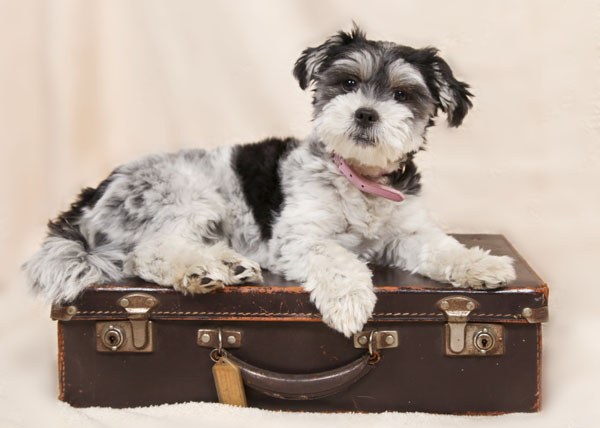 Flying With a Dog
You can no longer walk into the airport and expect to hop on any plane with your pup. Courtesy of changing regulations, fake emotional support animals (ESAs), and advanced veterinary knowledge, flying with a dog has become a complicated process. It isn't impossible, but you need to start thinking through the process well ahead of time. You'll save yourself, the airline, and your canine companion a lot of stress and aggravation. If you do your homework, keep a handy checklist nearby, and maintain your wits about you, the pre-flight process won't leave you frazzled.
Flying With a Dog: Booking the Flight
You HAVE to contact your airline and tell them you're flying with a dog. Even people flying with a service dog make that call. And the sooner you make the call, the better. Many airlines set restrictions on the number of animals per flight (ANIMALS – not just dogs!). You'll want to check your individual carrier, but the policies can depend on:
Weight restrictions for the cabin
The length of the flight
Your intended destination
ALL dogs – whether coming along in the cabin or riding in the cargo compartment – require a fee. Flying with a dog runs anywhere between $75-$200 EACH WAY. The fee depends on how much your dog weighs and how you're transporting them. Each airline sets its own fees, so arguing and trying to compare one against another? Yeah, not going to work.
Oh, and if you bring your pup along in the cabin? They count as one of your carry-on bags. That means you may have to check an additional piece of luggage. (So factor in the additional costs when you start planning your trip)
Direct to the Point
Have you ever lost a piece of luggage on a trip? Can you imagine how you'd feel losing your DOG?
The luggage handlers do everything they can to match up tags with planes. However, tight schedules, sudden flight changes, and human errors occur. The last thing you want to do is subject your beloved canine to that mess. As such, look for direct flights. Your dog won't have to face getting transported around the airport from plane to plane. They also won't end up confronted with additional strangers. Not to mention an extended travel time. (Think of some of the layovers you've sat through)
Flying With a Dog: Transportation
When you're flying with a dog, they MUST remain contained within an airline-approved carrier. (Service dogs are the ONLY exception to this rule) You want your dog to feel comfortable inside their travel carrier. After all, that's their "home" for how many hours? You CANNOT remove your dog from their carrier during the flight. They need to feel secure, have room to sit and lay down but not get tossed around. No matter whether you have a large or small dog, the same rules apply.
Give your dog plenty of time to get used to their carrier. Waiting until the day of the flight to pop them inside will increase the stress level. Starting a month before you're ready to fly with your dog gives them a chance to get used to everything.
Airline staff WILL check the carrier upon your arrival at the airport. If they see cracks or feel the crate is unsafe, they'll reject it. And unless you have a spare on-hand, your dog won't get on the flight. So do yourself and your dog a favor and invest in a quality carrier.
Identification
You SHOULD fly on the same flight as your dog. However, if you have a giant breed going along as cargo, this may not happen. Regardless of whether your dog's in a carrier at your feet or hanging out with the luggage, make sure you have the following forms of identification for your pooch:
A safety collar with your dog's PERMANENT ID
An additional temporary ID with your cell phone (or a good contact number where you're traveling)
A label on the carrier with the following:

Your name and permanent address
The name of your dog
Your final destination
The contact information of someone at your destination

Current photos of your dog
Flying With Your Dog: The Vet Visit
Most airlines want a vet visit within ten days of your scheduled flight. Expect to show proof of your dog's vaccine history before you fly with your dog, too. And if you're traveling to Hawaii or out of the country, make sure you've checked their requirements. You may need special titers or additional certificates (to LEAVE the airport). For dogs in their senior years or those with long-term illnesses, this is a good time to talk with your vet about the flight. And don't get upset if they tell you flying with your dog isn't the best idea. Flying is stressful. You want your dog on the trip, but you don't want to get off the plane and rush to an emergency clinic.
The Sedative Debate
People often want a sedative for their dogs. After all, airports are noisy and full of strangers. Not to mention the strain of flying. And sedatives USED to be the order of the day. However, emerging studies have found that giving your dog a tranquilizer before flying is one of the worst ideas in the world. Sedatives interfere with the ability to orient and establish equilibrium. So during turbulence, dogs end up falling and banging against the sides of the carrier. Tranquilizers can also interfere with an animal's ability to breathe OR regulate their body temperature (depending on the drug used).
As such, many airlines now require you to sign a statement promising that your dog received NO sedative or tranquilizer before boarding. If you refuse (or if you DID give them something), they have the right to refuse to allow your dog on the flight. (And if you sign despite the administration, and your dog ends up injured, that statement WILL come back to bite you)
If you're concerned about your dog's stress levels, you can consider one of these alternatives to medication:
Thundershirt (NOT allowed in cargo!)
A pheromone collar
The Day of the Flight
You checked all of your preparation boxes. Today's the day you and your dog get on the plane. You still have a few more things to mark off the list, even before you head to the airport.
Trim your dog's nails. You don't want them to catch a claw on their carrier accidentally.
Withhold food 4-6 hours before leaving. It sounds mean, but dogs can go without food for up to 10 hours without a problem. And holding off on meals prevents possible accidents in flight. For dogs going in cargo, ice cubes in the secured bowl work fine.
Leave early. Everyone needs extra check-in time, but you need MORE.
The Airport
For dogs traveling as cargo, the check-in process gets lengthy. You CAN ask to watch them load your pup, though, which is nice. Try to book a seat towards the front of the plane to make sure you're one of the first off so you can claim your kiddo fast, too. If you have someone traveling with you, they can round up the luggage while you pick up your dog.
When flying with a dog, you have to pass through security, the same as everyone else. However, your dog can't go through the x-ray scanner in their carrier. You have two options. You can make sure they have a proper harness so you retain control while the two of you walk through the human scanner. (NEVER assume you can hold your dog without a leash!) Or you can request a secondary screening that allows your dog to stay in the carrier. The latter requires extra time, so judge your schedule appropriately.
You can find dog-friendly facilities at airports to give your pup a bathroom break before you board. (Again, judge your timing) Once you're on the flight, though, your dog STAYS in their carrier. Looking up the facilities in your destination city will help your dog out when you land. (After all, your bags take time to reach baggage claim)
High-Flying Canines
When you consider booking your next trip, you don't have to leave your beloved canine behind. You DO need to take the time to properly make some plans, though. Flying with a dog requires patience and consideration. However, if you're thorough and thoughtful, you'll find yourself kicking back with your pup beside you.
Bon voyage!