When you look at your pet, what do you think? "That fluffy animal is so cute," or do you think, "my furry child is adorable?" I think most see your animals as your four-legged children – part of your family. I personally buy clothing for my cat, Stewie, and my dad sends me pictures of him with the caption "Happy Mother's Day" on the second Sunday of May every year.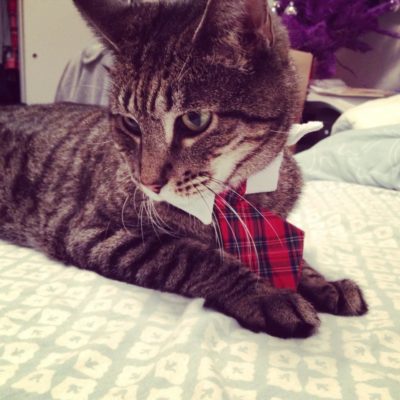 This past summer, I made a paw print cake and had a party for my cousin's Vizsla, Kailey, on her birthday. She even wore a party hat.
According to The Sacramento Bee, a judge in Canada seems to view pets differently. "A dog is a dog," he said as he refused to treat dogs as children in a divorce case. Judge Richard Danyliuk explained that an animal is considered property by law, and a "domesticated animal that is owned" has "no familial rights."
The wife in the divorce case wanted to keep full custody of the soon-to-be ex-couple's dogs and even offered her husband visitation rights. Unfortunately, judge Danyliuk disagreed with the request and rejected it. He then explained how animal children are not the same as human children – not part of the family.
The judge wrote a statement about the couple's oldest and ill dog: "It is one of life's cruel twists that dogs are such noble beings yet enjoy such a short life span." The judge must clearly be a dog lover – why else would he call them "noble beings"? Unfortunately, he wasn't willing to change how the laws view dogs within the family.
Yet, none of this is stopping people from treating their pets more and more like humans. Statista pointed out that 50 percent of American pet owners would buy presents for their pets. Clearly, they consider their pets to be part of the family!
An article from Huffington Post mentions that a few state legislators are floating the idea of changing the law to consider pets' best interests when determining custody. One solution that legislators are suggesting is a "love contract."  Apparently, this love contract idea is "an evolved variation of pre-nuptial, post-nuptial or cohabitation agreement that deals with any relationship issues beyond splitting property upon a breakup."
The U.S. seems to be on the right track to fix this, maybe it'll reach Canada, and judge Danyliuk will start to think differently!