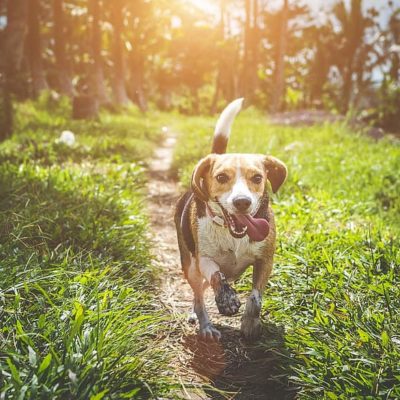 When training a dog or wanting your dog to stop displaying undesirable behaviors like barking, employing a shock collar might be your best option. Many dog owners have powerful feelings over the controversial subject of using shock collars. However, in some cases, owners have reached the point where they feel the need to utilize the technology available for dog training.
What Is a Shock Collar?
Shock collars, also called e-collars and training collars, are dog collars worn around the neck for training, obedience, and behavior modification purposes. These collars often deliver small noises, shocks, or vibrations that teach a dog to perform certain tasks or avoid others. Some of the most common uses for shock collars include containment for dogs on unfenced properties, anti-barking, and behavior modification for dogs who jump or growl.
What Is the Best Shock Collar?
Different collars are better depending on the use, so we've looked at many different shock collars and determined that these are the best around. Here is our list of the top 5 best shock collars for dogs.
Our overall favorite, voted the best shock collar for dogs, is the DOG CARE Dog Training Collar. The main reason this collar tops our list is that it can be personalized for your dog. This shock collar provides numerous different settings that allow you to adjust it for the intensity of the training that you are partaking in with your pooch.
Another point for convenience is awarded to the DOG CARE collar because you can remotely control up to nine different collars from the same controller device. Each controller also features a security pad that will prevent you from accidentally shocking your dog, which is crucial to the training process. Additionally, with 99 different static shock levels, you are sure to find the appropriate setting for your dog. We recommend this collar for medium to large dogs, but it can be used on dogs from 15 to 100 pounds.
Don't just take our word for it! With almost 20,000 reviews on Amazon, this collar has received 4.4 stars!
With the PetSafe Rechargeable Dog Training Collar, owners can control their dog's behavior from up to 800 yards away. The collar can be used with just beeps or static as well as a shock feature. There are eight different levels of static correction and three levels of minor shock with this collar so that owners can choose the most appropriate option for their dog. In addition, many pet owners report that they love how lightweight the collar is, making it appropriate for smaller dogs.
The batteries that come with the collar and remote are rechargeable and interchangeable, which means you don't need to buy batteries separately. However, you can purchase extra sets of batteries so that you never go without the collar if you would like.
Choices for shock collars for small dogs are very limited. However, this is the best shock collar for small dogs. The Educator E-Collar Remote Dog Training Collar is recommended for dogs over 5 pounds, but it also works well for dogs that are under 4 pounds. This shock collar is the best for small dogs because it has the smallest receiver in the industry, meaning it won't be too heavy or bulky for a small dog.
When placed on the lowest setting, dogs aren't going to feel a shock. You can also choose a setting that shocks your dog just enough to start responding to your commands.
The best feature of this collar is the tapping sensation. The tapping allows you to train your dog with a gentler vibration sensation than a traditional shock collar.
We also like that the lithium-polymer batteries used in this device are rechargeable but last for 15 to 20 days on just one charge. In addition, the transmitter and receiver are both waterproof, and the transmitter has a range of half a mile, which makes this a convenient device for hunters working with their hunting dogs.
Large dogs often require special equipment when it comes to training. Their large frames make it more difficult for owners to correct behavior problems on their own. For this reason, shock collars are a valuable tool. These collars are made to withstand submersion in water up to 25 feet, making them the perfect shock collar for bird dogs. Each system allows you to simultaneously train three dogs with just a single remote.
The feature that makes the SportDOG 425 Remote Trainer stick out above its competition is that it allows dog owners to choose either continuous or momentary stimulation for their dogs. You can also choose between shock, vibration, and tone stimulation.
It is important to note that the SportDOG 425 Remote Trainer is more expensive than some of the other collars on our list, and the battery life is much shorter than many other remotes at just 50 to 70 hours. The batteries can be recharged within two hours, however.
Extremely stubborn dogs aren't uncommon. If you are battling one, consider the TBI Pro Dog Shock Collar, which provides versatile options for pet owners while remaining affordable. This collar comes with different levels of intensity that allow you to customize training for your dog's needs at any given time.
After just a two- to three-hour charge, the batteries in the TBI Pro Dog Shock Collar can last an impressive 20 days!
The TBI Pro Dog Shock Collar is waterproof. This collar's range is also up to 2,000 feet, allowing owners to use it while hunting or participating in outdoor activities.
We also loved that the company stands by its product. If you aren't satisfied with your collar, TBI will provide a full replacement or refund within a year of the purchase date. But, we don't think you will want a refund on this great collar.
If you are interested in trying a shock collar, consider one of our favorites above. Let us know what your favorite shock collar is in the comments!