All of us have our favorite blankets to curl up with. It doesn't even need to be cold outside. Sometimes that blanket's there for security or comfort. When we feel out of sorts, want some time to ourselves, or start getting sick, we break out our favorite fleece or wool. Our dogs long for that same relaxation. With the advent of dog blankets, you can now provide them with that snuggly comfort.
Security Blanket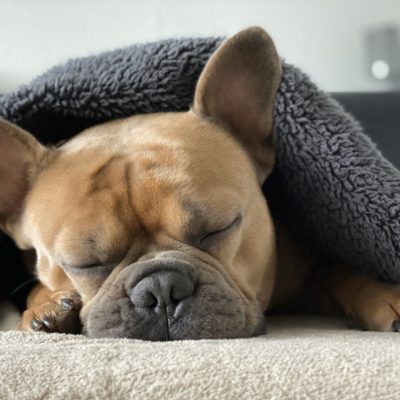 It's easy to think of dog blankets as a warm covering for dogs with thin hair (or even NO hair). As the mercury drops and we notice our faithful canines shivering, it's a natural inclination to wrap them up in fleece. Dog blankets work well for that, but they're so much more than a simple toasty blanket.
Dog blankets function for all of the following situations:
Security: Similar to a calming dog bed, tucking that blanket around your nervous dog provides a sense of security. You don't even need a heavy, weighted blanket to do the trick. A soft weight surrounding your dog will soothe their nerves.
Furniture Protection: You love your dog, but you just brought a brand-new couch into the house. You'd like at least a few months without hair or drool on the cushions. Dog blankets create a tasteful barrier that can slide into the wash without a problem.
Car Barrier: You can opt for a car seat cover, but not all of those options are soft or warm. Dog blankets give your dog a little more comfort while still protecting your car.
Carrier Comfort: Odds are you have a mat or dog bed in your dog's carrier. If you want to extend the life of that bed, though, dog blankets provide an extra cover. They aren't a great choice for chewers, but many dogs love the comfort provided by snuggling with a fleecy blanket.
Company: It sounds strange, right? Dog blankets are a source of warmth, though. When you're away, that blanket gives your dog something to cuddle with that radiates a gentle heat. It breaks up their loneliness.
Dog Blankets Year-Round
You may pack your blankets away during the warmer months of the year. It seems logical to do the same for your dog blankets. Before you seal them up for the bulk of the year, though, consider alternative possibilities.
Many dog blankets use a microfiber cloth. This fabric works well to wick away moisture (helpful for dogs that drool). This means you can leave a basket of dog blankets out year-round.
When light rains hit in the spring or fall, an old blanket works great for a quick dry.
Summer prompts air conditioning and fans. Your dog's going to shed from the cooler air in the house, and that microfiber picks up the loose hair for you. And don't forget: panting equates to drooling, and the dog blanket can double as a towel.
If snow hits your region in winter, microfiber helps draw out clumps of ice from between your dog's toes. Your dog's feet will stay healthy, and you won't find mysterious puddles popping up around the house as the snow melts.
Choosing a Dog Blanket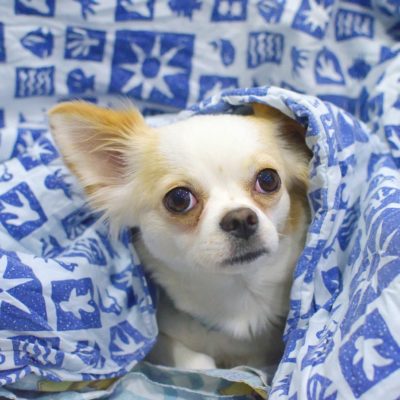 Choosing a dog blanket sounds simple. After all, all blankets are created equal, right? It turns out it's a little more complicated than that. You've probably picked up a few blankets for yourself that turned out disappointing (falling apart, not keeping out the cold, staining easily, etc.). Dog blankets look similar to our own, but they're smaller in scale – designed to fit dog beds or inside crates. You also want these important features:
Material: What region do you live in? How thick is your dog's coat? These questions will guide you on your material choice. Most dog blankets come in flannel, fleece, microfiber, polyester, or Sherpa. If your dog gets chilled easily, choose a thicker material.
Size: While dog blankets tend to be smaller than ours, you still need a size that works for your dog. A small breed dog blanket isn't going to work for your Great Dane.
Waterproof Material: You'll need to pay a little more, but if you're putting the dog blanket in your car or have a drooler, you need that waterproof liner.
Patterns and Colors: If you're protecting furniture, you may want colors that coordinate with your décor. If the blanket's going in your dog's crate, you're probably less concerned with the appearance. Good thing dog blankets feature a variety of color options.
Ease of Cleaning: You love your dog, but that blanket's going to get messy. You may fall in love with a specific dog blanket, but do you want to handwash it? Consider how it needs to be cleaned before you hit that "buy" button.
Storage: Dog blankets work year-round. However, if you're traveling, you want them to collapse down nicely. A bulky blanket might take up half the car or luggage space.
NO Electric Blankets
If your dog attaches themselves to the heating grate, you might feel tempted to pick up an electric blanket. (I understand how they feel – I'm rarely NOT cold) There ARE electric dog blankets out there, but they're NEVER a good idea.
Dogs chew, and chewing an electric blanket can result in electrocution, even if they don't chew on the cord itself. (Not to mention the blanket won't work anymore)
Also, water and electricity? Bad combination. So drool can cause problems.
Finally, electric blankets don't heat evenly. Dogs can end up with severe burns. Have you ever read the warning on your electric blanket? You're not supposed to use them for more than TEN MINUTES. Even veterinary hospitals have stopped using electric blankets due to these dangers.
NO electric dog blankets!
Best Dog Blankets
Dog blankets are incredibly versatile. They protect your car and furniture from dirt, mud, and debris. They comfort your dog, providing warmth and security. And they extend the life of your dog's bed and crate pad. And they're usually super cute. We have blankets all over our house for our dog (and the cats), and she bunches them up into pillows. When it gets chilly (Greyhounds don't have much hair), she burrows under them. Even the cats venture underneath the blankets, cuddling up with her. You won't regret offering your dog a blanket. Just be careful if your dog likes to chew – dog blankets AREN'T chew-proof.
Best Waterproof Dog Blankets
You want to keep your car seats dirt and mud-free. Or perhaps you have an older dog in the house who's starting to have accidents. No one wants to spread puppy training pads everywhere. Good thing waterproof dog blankets exist. Your dog gets a comfortable blanket to cuddle up with, and you get the reassurance that your furniture or car will stay safe and dry. Everybody wins!
Pawsse's dog blanket gives your dog soft microfleece to snuggle with and Sherpa on the opposite side for extra warmth. The inner fabric features a waterproof lining to keep your car or furniture protected from unexpected accidents. You have four sizes to choose from, suitable for every size of dog. Best of all, the microfleece won't collect pet hair.
Downside? The microfleece repels pet hair, but the Sherpa collects it. This can make cleaning difficult, as Sherpa holds onto hair, even through the wash.
Petmaker uses a plush fabric on one side of their dog blanket and Sherpa on the other. Sandwiched between is a waterproof liner. The neutral color choices blend well into most households, and you can select from two sizes. The blanket's machine washable, and you just need to set your dryer on low to protect that inner liner from damage.
The downsides? The largest size is still too small for giant breed dogs. Also, the plush fabric tends to pill with washing. You may want to go over it with a lint roller to keep the fuzz in check.
If your primary concern is furniture protection, RHF's dog blanket works beautifully. The elastic straps secure the cover in place, preventing the blanket from sliding off the couch when your dog jumps up or down. You get two colors on each blanket, allowing you to change up the look of your sofa. The fabric's water-resistant (NOT waterproof, so clean up accidents right away), and everything can go straight into the washer and dryer.
So what are the downsides? Some people struggled with getting the straps in place. You may want to tuck the edges under your couch cushions instead of battling with them. And the fabric's not very soft or warm. If you want to keep the couch safe, though, it works well.
Best Plush Dog Blankets
While not waterproof, these dog blankets offer the softest, plushest fabrics your dog could ask for. You'll provide the highest cuddle factor. And every option's machine washable! So when the blankets reach maximum drool, mud, or dirt saturation, you can toss them in the wash for a quick refresh. You can't ask for more than that!
What's cuter than Allisandro's dog blanket? Not much. With neutral shades, your dog will look adorable with their new snuggle blanket. The soft flannel fleece provides warmth and comfort in equal measure. Four different sizes suit dogs of all breeds, keeping your car or furniture protected. You CAN handwash it at cleaning time, or it can just as easily go into the washer and dryer.
Downsides? Handwashing this dog blanket will keep it lasting the longest. (Kind of a pain, especially if you have the largest size) On the flip side, machine washing WILL create pilling. So kind of a toss-up on which problem you'd rather deal with.
If you have several dogs or want to cover a lot of real estate, AK KYC has you covered. You get SIX dog blankets in each pack! The soft fleece material provides the ultimate comfort for your dog, each in bright colors with patterns of paw prints. Two different sizes accommodate different dog breeds.
The downsides? Even the largest size (28″x40″) isn't going to suit a large dog. You'll have to use several blankets at once. (Not the most practical, even with six blankets to work with) Also, the fleece is on the thin side. They'll work great for clean-ups but not so hot for warmth.
Do you have a small breed dog? Comsmart offers two sizes of their fleece dog blanket packs. You get SIX colorful paw print blankets in each package. The double-layer provides softness without turning too heavy, even in summer. When you need to switch a blanket out, just toss it in the wash for easy clean-up.
So what are the downsides? Yeah, those sizes really are meant for the smaller dog sect. And even with the double-layer, they aren't the thickest. If you don't need a ton of warmth, though, they're super-comfy.
Furrybaby's dog blanket uses textured fleece to invite your dog in for cuddle-time. The lightweight polyester material cleans easily in the washer and dryer. You can choose from various colors, and there are five sizes – even a Jumbo to include your biggest dogs.
Downsides? That texture likes to hold onto hair in the wash. If you have a shedder, you may want a different dog blanket. People were also disappointed to find it thinner than the pictures made the blanket appear – keep that in mind.
PetFusion offers a micro-plush dog blanket your dog will love. The fabric resists pilling, no matter how many times you wash it. Your dog will stay comfortable and warm regardless of what the weather outside decides to do. You only get a single color to choose from (grey), but the neutral tone works well in any household.
The downsides? The plush DOES resist pilling, but it likes to collect lint from the dryer. Make sure you stay on top of that lint trap and keep a lint roller on hand. This is also one of the pricier dog blankets out there, but people found their dogs genuinely loved it.
Snuggle Time!
Everyone needs time to relax, recenter, and recharge. For a lot of us, reaching for a blanket helps with that process. Our dogs are the same. Dog blankets provide them with security and comfort without spending the extra expense on a giant blanket that will swamp them.
So the next time you reach for your book and fuzzy socks, check to make sure your dog has their dog blanket. Then you can both snuggle up and enjoy the peace together.