Cats love to be warm. Whether it's on your lap or finding that ever-shifting sun patch, the feline species craves heat. But sometimes, these options aren't always available to our feline friends, so pet product manufacturers have now designed specialized heated cat beds that will keep Kitty cozy all day and all night long.
Let's explore everything you'll need to know about heated cat beds.
Why Do Cats Like Heat?
Cats are predisposed to seeking heat from birth. This is due to their facial temperature receptors that allow blind newborn kittens to locate their mom.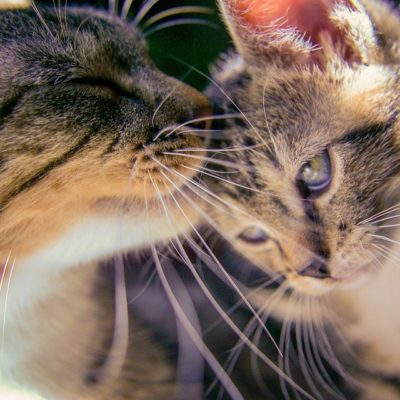 Warmth also provides cats with a sense of well-being and comfort, so as it matures, those same heat-seeking receptors grow stronger and are an instinctive force that propels kitty towards heat (and sometimes towards your body to snuggle you, as you've probably noticed before).
Benefits of Heated Cat Beds
The general benefit of heated cat beds is that they heat up to a cat's normal body temperature, which is approximately 102 degrees Fahrenheit. Some models are even designed to cool down to the ambient room temperature when not in use (so cool, right?).
Other benefits of heated cat beds include:
Easing the pain of aching joints of arthritic and/or senior cats
Easing muscle pain from straining themselves or from health issues
Providing added warmth in the colder winter months – you like to get warm in the winter too, we bet!
Some work outdoors (garages etc.) for helping strays stay warm
Boosting the immune system to help fight off diseases
Providing a feeling of comfort and overall happiness.  Who doesn't like to see a warm and happy kitty?
What Are The Different Types of Heated Cat Beds?
There are some choices for pet parents when it comes to heated cat beds. They come in pad styles, microwavable pads, electric beds, and self-healing. Check them out.
The Pad-Style Cat Bed
The pad-style heated cat bed works similarly to a human's heating pad. The only difference is they run on a lower wattage (usually around 6 watts). The AC adapter's cord length will vary, and so will the dimensions of the pad itself. Most have removable or wipe-able covers for ease of cleaning and are made chew-proof to prevent accidents from happening.
The Pet Remedy Low Voltage Heat Pad is a good example of this type of heated cat bed. It measures 16.5 x 15 inches and comes with over 8 feet of cord for plugging it in. It's safe to constantly leave on and has a wipe-clean surface.

Microwavable Cat Beds
The microwavable heated cat bed is less expensive than the plug-in style; however, they don't retain the heat as long. They heat up, and then the heat slowly dissipates over time.  These aren't the types of beds you can just leave around the house while you're gone so that your cat can snuggle up and get some warmth alone.  However, they are usually made from buckwheat enclosed in either a fleece pad that can be used directly or one that slides under your cat's favorite blanket or pillow and are very safe since they don't use electricity.
The SnugglySafe Pet Bed Microwave Heating Pad provides soothing warmth for your pet and comes with a soft fleece paw print design cover.
(A word of caution; Due to individual microwave voltages, always heat this type of pad for less time them recommended by the manufacturer. This prevents the unit from overheating, which can cause damage to the product)

Electric Cat Beds
These types of heated cat beds come in various styles but are typically cup-like or hut-like. These beds provide added comfort for your feline friend as they can snuggle in for a cozy and enclosed nap or sink into the bed with the high walls for chin resting. The fabric is typical of most cat beds, and the heating source is a removable pad inside the base of the bed itself.
The K&H Thermo-Kitty Heated Cat Bed comes in two sizes (16 inches and 20 inches round) with 6 inch high walls. It uses a dual-thermostat unit that will raise the temperature 15 degrees above the ambient room temperature when not in use. When your cat is on the Thermo-Kitty heated cat bed, it will heat to your cat's normal body temperature.

Self-Heating Cat Beds
These cushion-style cat beds use a special material that reflects the cat's own body heat without electricity. This type of heated cat bed is perfect for any area in your home or outdoor use, like a garage. They are available in a variety of patterns and sizes.
The Purrfect Thermal Cat Mat is lightweight and machine washable. It is made from double-sided fleece in leopard print and solid black and is big enough to suit average-sized felines.

How to Choose the Right Cat Bed
Choosing the right heated cat bed will depend greatly on your cat and the area you want to put it in.
If your cat likes to hang out in an area where there is no accessible electrical outlet, then you may opt for the microwavable style or the self-heated version. If Kitty is a snuggler and likes to be enveloped or even be enclosed in its bed, then most likely, the hut or cup-style heated cat bed will be the purrfect fit.
The best way to choose the right heated cat beds for you and your feline friend is to do your research. To make that process a bit easier, we've listed the top-rated heated cat beds.
Top Rated Heated Cat Beds
With a 16 inch diameter and 4-watts of heating, this heated cat bed will keep your kitty cozy all day long. It features a soft, orthopedic foam base and will heat from 10 to 15 degrees above the ambient room temperature. However, when your cat takes a nap in the Cuddle Up, it will regulate itself up to your cat's normal body temperature.
This heating pad comes in four sizes to fit most pet beds. As with other K&H heated cat beds, this unit will also heat 10 to 15 degrees above the ambient room temperature, then adjust itself up to accommodate your cat's normal body temperature when laid upon. This heating pad does need to be used under a pillow, cushion, or blanket.

Lectro-Soft Outdoor Heated Cat Bed
This durable heating pad is made specifically for outdoor use and comes with a fleece cover for added comfort. It's thermostatically controlled to warm to the cat's body temperature and uses soft orthopedic foam to give your cat added comfort and support.

This heated kitty house will make living outdoors a whole lot nicer. It runs on 20 watts even in sub-zero temperatures. It is durable, weather-resistant, and insulated to keep your cat protected from all kinds of outdoor conditions. In addition, it has a door-flap to help keep the heat in and the rain/snow/wind out.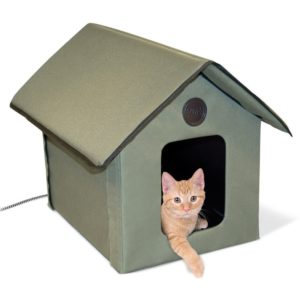 Aspen Self-Warming Heated Cat Bed
This adorable self-warming heated cat bed will reflect your cat's body heat to your pet. It does this by using top-of-the-line technology found in space blankets. It has a non-skid bottom and fits a variety of sized cats. It's hassle-free, with no electricity required.

Heated Cat Beds Keep Your Cat Cozy
Cats love to be warm and cozy, so investing in a heated cat bed is a wonderful way to give your best furry friend what she craves. Whether it be a heated pad, microwavable, electricity-run, or self-warming, your cat will love one of these toasty alternatives to a normal pet bed.