Cats can be finicky creatures. It can be almost impossible to get them to like something that they don't want. Take litter boxes, for example. Sure, you may have just purchased the most advanced new Litter-Robot so you wouldn't have to deal with litter anymore, but if your cat isn't into it, good luck getting him to use it. And when was the last time you bought your cat a toy, and instead of playing with it, she jumps in the box that it came in and ignores it altogether?
Green Pantry understands how hard it can be to deal with picky cats, and that's why they've created the perfect cat food for the cat that has everything. Is your cat tired of mushy wet cat food from a can that always comes in the same flavor of gruel? Does your cat aspire to eat like a globe-trotting billionaire? Good news! In 2016, Green Pantry created their British Banquet line of ultra-premium (and expensive) cat food.
British Banquet contains some ingredients that you would only get to eat on the most special of occasions: Arenkha caviar, line-caught Scottish Salmon, hand-caught Norfolk lobster, locally-sourced Devon crab, organic asparagus, quinoa, and saffron for what the website calls that "extra touch of luxury and refinement."  And it wouldn't be high-end if all these ingredients weren't also organic, preservative-free, and non-GMO.  Your cat will DEFINITELY understand and appreciate the difference.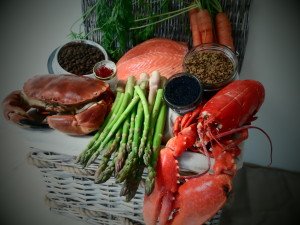 Of course, these types of refined meals don't come free. A meal for humans with those ingredients would cost hundreds of dollars. The cost of a 2kg bag of British Banquet came in at $306, which covers about 10 days of food for your kitty. In other words, if you feed your cat these elite edibles, you'll be paying $15 per meal. If you fed your cat British Banquet for an entire year, you'd be out $11,000 out of pocket, or 50-100 times what the lowest-priced cat foods cost (185 times more than Meow Mix).
The average American HUMAN-ONLY spends $2,641 per year on food, a small fraction of what these pampered felines could spend on food.  In case you need to see how drastic this difference is, take a look at the chart below:

While some of these foods sound appetizing to humans, cats are natural carnivores.  Therefore asparagus, quinoa, and saffron are completely unnecessary for a cat to maintain a healthy diet.  In the end, this is clearly more of a marketing effort on Green Pantry's part than anything else.
In the case that you still wanted to try and order and hoped for an easy click-and-order process to get your hands on British Banquet – the world's most expensive cat food – you're out of luck.  The stuff serves such a small market that it isn't even mass-produced.  You'll have to purchase your cat's elite meals through special order.  And if you're in the United States, you'll have to pay extra shipping charges of $61 per order.  That's another $2,169 annually for those at home counting.  If you're the type of person who can afford this stuff, however, you're probably not even worried about the extra pocket change you'll have to dish out to get it stateside anyway.
If you feed your cat something that's crazy expensive or really unique, let us know in the comments.  We'd love to hear from you!