If you love cats and just can't get enough of them, or you aren't fortunate enough to be able to pet parent one, then visit a cat cafe. These themed cafes allow people to come in (for a small cover fee) to spend time with their resident felines. Some serve coffee/tea and small nibbles, but the main focus is on the interaction with the cats.
Let's explore where this concept began, how a cat cafe works, and some of these amazing establishments. We've even found one destination location in Hawaii where you can "cuddle up" with over 500 cats!
The First Cat Cafe
Before the trend of cat cafe's began there had to be the first. Cat Flower Garden opened its doors in 1998 in Taipei, Taiwan. People from all over the area and even tourists made a point of visiting this unique cafe.
Even though Taiwan beat the rest to opening the first cat cafe, the idea/concept actually originated in Japan; however, it took until 2004 before it became a reality. Cat's Time ("Neko no Jikan" in Japanese) became a hit and soon many other regions were "clawing" to get their own cat cafe.
Once the popularity of the cat cafe idea was born, it didn't take long before other countries "pounced" on the idea. You can now find cat cafes in many parts of Europe, the United Kingdom, Mexico, New Zealand and of course, Canada and the United States.
How Do Cat Cafes Work?
Owning or visiting a cat cafe isn't as simple as ordering a coffee and sitting down among the cats. In fact, many of these establishments have strict guidelines in place for both the well being of the cats and also for their human patrons.
Most cat cafes have a separate area for visiting with the felines, as there are laws in place about having food/drinks served where animals are housed.
The cats are also regulated and provided by local animal shelters willing to participate in the cat cafe. Therefore, all the kitties are usually available for adoption. Go in for a coffee and leave with a cat! Each cafe will also have basic rules in place like giving the cat its space if it's not feeling particularly friendly, children must be supervised at all times, no loud noises, etc.
Although the idea is to bring cats and people together, these establishments still have to look out for the welfare of their furry cafe-mates.
Top 7 Cat Cafes From Around the World
If you're looking to spend some time in a cat cafe in another part of the world, we've compiled a list of the top 7 cat cafes you have to visit.
La Gatoteca: Madrid, Spain
This cat cafe is not only providing fresh beverages, but its 11 feline occupants are all up for adoption. This cafe is non-profit and runs entirely on donations. In addition, it also offers yoga-with-cats, live music and even workshops on how to pet parent a cat. This cat cafe does charge a small fee and is only open to the public at specific times. Stop into the La Gatoteca if you're in the area or visit their website for more information.
Les Cafe Des Chats: Paris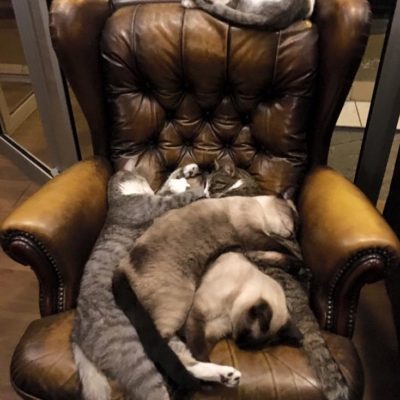 If you thought the Eiffel Tower was the top place to visit in Paris, think again. Les Cafe Des Chats has 12 feline residents that are allowed to roam freely all day every day in their own separate room. But that's not all, the cafe itself has exposed stone walls and ceiling and is filled with antique furnishings along with comfy, plush seating. Plus, because it is Paris, you know the food is going to be fab-u-lous! In fact, they serve up a variety of seasonal dishes throughout their hours of business. And part of their proceeds all go back to organizations to help protect cats in need.
Lady Dinah's Cat Emporium: London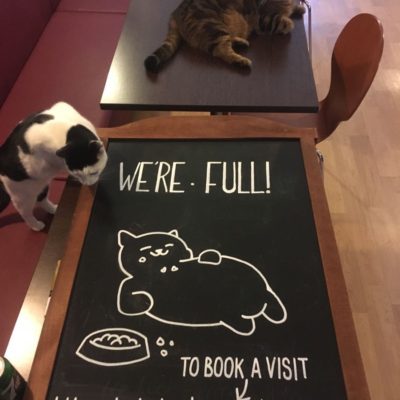 Have high tea with cats at Lady Dinah's Cat Emporium in London, England. This quaint cafe not only caters to 11 lovable felines, but they also offer up a vegan, vegetarian and gluten-free menu. They offer 90 minute sessions with the cats; however, they do adhere to some strict policies (to ensure the safety and well being on their felines) so check out their website before you book a session.
In addition to all this furry fun, due to popular demand, they have also brought back their "Knitting with Cats." This cat cafe offers two sessions (either instructed or "free-roaming") so book your appointment to get in on all the kittin'-knittin'-action.
Kattencafe Kopjes: Amsterdam
With its minimalist, yet stylish decor, yummy nibbles and adorable cats, the Kattencafe Kopjes in Amsterdam is definitely a place you have to visit. In addition to munching, and mingling with the feline residents, you can also purchase a tote, sweater, t-shirt or cup to commemorate your visit. The small number of cats have been hand-selected from the local animal shelter and are cared for by the proceeds taken from the small admission fee. However, you can spend up to two hours with the cats while choosing some great eats from their menu.
Cat Cafe: Budapest
Located for easy access in the middle of the city, this cute cat cafe houses 10 cats and kittens that are all up for adoption. The goal of the Cat Cafe Budapest is to offer up a therapeutic space where animal lovers can interact with the cafe's feline charges. In addition, you can also grab yourself a beer, coffee or tea and even a panini or a slice of delicious cake. Plus, you will have the option of ordering up a cat-friendly treat for those special furry residents.
Found a feline you can't live without? This cat cafe has designated days for both adoptions and information-sessions on cat care.
Cat Republic: St. Petersburg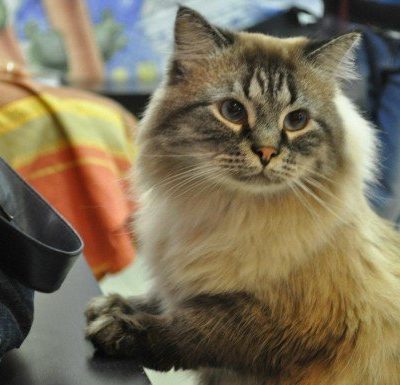 This cat cafe has taken the "cafe" experience to a whole new level. The Cat Republic is actually only a part of this organization – there's also a cat museum! The cafe part houses 20 cats (one is even hairless) and is being toted as a mini republic openings its borders to all you cat lovers.
It includes exhibition hall, the art café, the library and, of course, a room full of cats. Come and visit any or all of these areas while you help improve the life of a homeless cat. And, yes, all the kitties are up for adoption!
Kit Tea: San Francisco
The first of its kind to open in the San Francisco area, the Kit Tea cat cafe is doing it right. This cafe not only offers a safe and loving environment for 15 cats, but they also host yoga classes with cats, a Mewvie Night that includes cake and tea, and other special events.
The main objective of the Kit Tea cat cafe is to take felines out of the kill shelters and re-socialize them in a caring, loving and safe environment. Here each cat is treated as an individual and given the time he/she needs to find a great home.
In addition to visiting and getting to know the feline residents, you can also order up some fine food, speciality teas and other beverages. Book an appointment today if you're going to be in the area to ensure you get in.
The Lanai Cat Sanctuary: Hawaii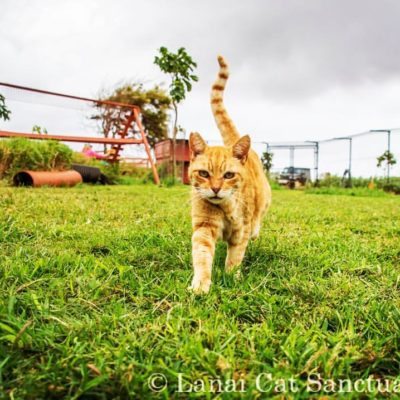 We promised the Hawaiian destination location and here it is. The Lanai Cat Sanctuary is providing 500 cats with a safe and nurturing place to live out their lives. Here you can visit with their feline residents that have free-run of over two acres of fresh green landscape and fresh running water. The sanctuary includes everything a cat's heart could desire including trees to climb and scratch, butterflies and other natural wildlife to interact with and, of course, getting plenty of lovin' from the guests.
This remote Hawaiian island is home to 3,000 human residents, but has become a must-do, tourist destination location for people from all over the globe. The sanctuary is open daily from 10 am to 3 pm and there's no admission fee; however, donations are always appreciated to help fund this worthy project.
Get a Coffee and Some Extra Furry Love
If want something new and fun to do, or are looking to adopt a feline friend, then a cat cafe may be right for you. Cat cafes not only offer up coffee and some extra furry love, but they're making a real difference in both feline and human lives. Visit one in your area, or book an appointment with one where you plan to vacation. You are sure to come back with some happy feelings, and maybe even a new best furry friend.