Dog hiking boots can protect your pup's paws from outdoor damage from weather and rough terrain. Invest in a boot that'll properly cushion your dog's paws.
There's nothing quite like an outdoor hike that allows you to witness the stunning beauty of nature. But it's that much better when your dog can come along for the trek wearing a pair of his best hiking boots, that is.
Those hiking trails pose hazards to your dog's sensitive paw pads. Think about it — you'd never go hiking in bare feet, would you? Your dog shouldn't either. Good thing there are dog hiking boots available to save their little pupper's paw pads so they can join for the long haul.
Why Dog Hiking Boots?
Dog hiking boots serve essential functions. They protect your dogs paws from heat and cold. A good hiking boot also stops dogs from slipping on wet surfaces. A bad fall is an excellent way to cut a trip short. Other hazards on trails like sand burrs, thistles, thorns, and foxtails have the potential to make your dog miserable. A solid hiking boot creates a barrier against such nasty surprises.
After all, if your dog sustains an injury on a hike, they may not be able to walk back. How far do you want to carry them? (CAN you carry them?) Hiking boots solve those concerns.
Choosing the Right Hiking Boot
There are a lot of dog hiking boots out there. They span seasons and conditions. Consider the kind of trails and environments you prefer. For instance, desert runs probably don't require heavy fleece lining. At the same time, mountain trails need proper waterproofing. Keep such facts in mind.
All hiking boots need the following:
Quality Materials: You want boots that are stitched, not glued together. Glued boots fall apart faster. Will you pay more for stitching? Yes, but you want durable materials. Look for thick rubber soles. A good sole not only protects against punctures, but it also absorbs energy so your dog can hike longer.
Anti-Slip Sole: Hiking trails go over different terrains. You don't want your dog to slide in moss or over wet rocks. Make sure there's a good tread on the sole.
Double Closure: The best dog hiking boots have two methods of securing them around the paw. A boot is useless off the dog and lost on the trail. A proper closure ensures a comfortable fit.
Reflective: You want your dog visible to others on the trail. Reflective strips or straps help in low light levels. It's a safety feature you shouldn't ignore.
Sizing Dog Hiking Boots
Ever put on a pair of shoes that gave you blisters? Were they the wrong size? You don't want the same to happen to your dog. Every brand of dog hiking boot has its own sizing chart. However, the measuring process is the same. Make sure you take the time to measure your dog's feet correctly. If his feet hurt every time the boots go on, he won't wear them.
How to measure your dog's feet:
Place a piece of paper on the floor.
Put one of his paws on the paper.
Lift the opposite paw so his weight rests on the paw on the paper. This spreads the paw to its fullest extent.
Trace the paw and label the paper (i.e., front left).
Measure the widest part of your outline.
Repeat the process for the other three paws (or however many paws your dog has).
Surprise! You might end up with different measurements! Like us, dogs have variations between their feet. Luckily, some brands sell dog hiking boots in pairs or even individuals for just this reason (dog people are so smart).
Sizing Note
Some dog hiking boots list breeds "appropriate" for each size. You still need to measure your dog's feet. Why? Such charts aren't accurate. For instance, we have a Greyhound. Size-wise, she's comparable to a Golden Retriever or German Shepherd. When you measure her foot, though, she's tiny. Seriously, her feet are only 2 inches wide! That makes her equivalent to a Pug or West Highland White Terrier on size charts.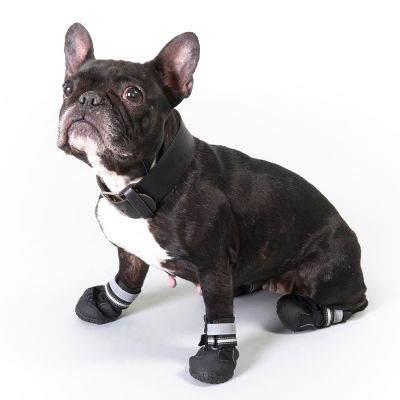 Best Dog Hiking Boots
Every hiking boot has its pros and cons. What works for one dog might not work for another. All of these boots receive consistently high reviews for all-terrain dog hiking boots. I've listed them from the most expensive to least expensive.
Muttlucks has a well-deserved reputation for quality. Mud Monsters LAST. The rubber sole conforms to your dog's foot, and it wraps around the toe and sides for extra protection. They have a large opening that makes them easy to get on and off, even around dewclaws. Mud Monsters have a loop fastener that wraps the ankle twice, as well as an elastic hook for extra security.
Downsides? They're on the pricier side. They're also limited in their sizing, excluding the smallest and largest paws. The mesh top isn't waterproof, either, so avoid puddle-jumping.
Ruffwear is a well-known name in the adventure dog industry. Their Load Up harness receives accolades for safety when transporting dogs in the car. The Grip TREX features Vibram soles – the same material you see in a lot of our hiking boots. Constructed of breathable materials, they have a low profile. Best of all, Grip TREX are waterproof.
The downsides? They fall right behind Mud Monsters on the price scale. The low profile can irritate some dogs' dewclaws. You CAN ease this with a pair of dog boot liners. Some people felt the single strap was challenging to keep secure, and if the boot comes off in the water, it sinks like a stone.
Hurtta created a flexible dog hiking boot with sturdy rubber soles. Similar to Mud Monsters, they open at the front, which makes it easy to get them on. For you, each boot comes with a "left" and "right" label to make sure you get the right boot on the correct foot. (Don't laugh – you know you want this) The Outbacks are also weatherproof, keeping dog toes nice and dry.
So what are the downsides? They're still pricey. They only have a single strap, which people felt was tricky to wrap appropriately and remain secure.
Have you seen those light-up sneakers kids have? Well, now your dog can have a pair! Kurgo's hiking boots feature color-coded flashing lights: green on the right side, red on the left. The claim is "navigational purposes," but I think that's stretching things. Pairing the lights with the reflective strips as a safety feature feels more reasonable. Taller than most dog hiking boots, they're comfortable around dewclaws. They open at the front with a Velcro strap and an adjustable elastic cord for extra security. Like Kurgo's Skybox Booster Seat, these hiking boots come with a lifetime warranty.
Downside? They tie Hurtta for pricing. You can purchase a single boot, though, so different sized feet benefit there. However, sizing excludes smaller paws.
Gotta love it when you don't need to check for waterproofing, right? QUMY delivers a dog hiking boot with extra traction grips on the sole. The inside also features anti-slip material that keeps the boot in place, along with two reflective Velcro straps. You won't complain about the price.
The downsides? While waterproof, they're not breathable. The anti-slip material inside can also cause blisters, so dog boot liners are a MUST.
Xanday's dog shoes have a sturdy, rubbery sole to provide traction on the hiking trail. The upper material is lightweight and breathable, so your dog's feet stay comfortable in dry and wet conditions. The shoes have two reflective Velcro straps to achieve a comfortable, secure fit. Unique among dog hiking boots, there's an additional reflective patch at the toe for added visibility. They're very reasonably priced.
So what are the downsides? You have to hand-wash these hiking boots. (Yeah, not something to look forward to) Also, a lot of people didn't feel these boots fit as securely as some of the others.
If you have an older dog, EXPAWLORER might be a consideration for you. These hiking boots have a unique rubber toe cap to protect against toe collisions. The ergonomic design makes them easy to get on and off. Two Velcro straps have four lines of reflective strips for visibility. EXPAWLORERs have extra length – vital if you have a dog with longer legs or peskier dewclaws. These boots are the least expensive – won't break the bank.
Downside? They're not as durable as other dog hiking boots.
Hitting the Trail
If your dog's never worn hiking boots before, give them time. Boots are a novel experience. Give them a chance to smell and see the hiking boots first. You can them move to slowly let them wear them for an hour at a time in the house. (Don't hit the trail until they're comfortable.) Signs to look out for that show they need to break the shoes in a bit:
Immobility
High-stepping
Kicking out
Reward your dog with praise and treats when they hold still or walk normally. Eventually, they'll see those monsters on their feet are harmless.
Important Notes
Whenever you reach for your dog's hiking boots, trim their nails. Long nails rub against the inside of the boot. (Think how your toes feel cramped in a shoe.)
While hiking, stop every five hours and remove the boots to check your dog's feet. Dogs sweat through their paw pads, and you don't want to see blisters developing. Remember, if their feet develop problems, you're carrying them back. (Hope you're feeling strong…or that you have a small dog.) Also, hiking boots do not protect against ticks. You want to do a tick check at those pauses.
Hiking and reconnecting to nature are amazing experiences. With proper dog hiking boots, your furry family members can share the experience right at your side.