No, they aren't called the Miao people because of anything to do with cats (though for the record, their name is pronounced just like "meow").  This article is about DOGS anyway, remember? Actually, the Miao are a Chinese minority living in the South of China, primarily in Guizhou, Hunan, Yunnan, Sichuan, Guangxi, Hainan, Guangdong, and Hubei.  You may have heard of a Miao subgroup, the Hmong, who live in Southeast Asia.
In contrast to regions of China where they actually eat dogs, the Miao go in an opposite direction.  On July 12th each year, the Miao villagers in Jianhe County, Guizhou celebrate "Dog-Carrying Day" (or 抬狗节 in Chinese).  During this unique festival, Miao people dress up their dogs like emperors and carry them around on thrones.
The tradition developed centuries ago and is a way for the Miao people to honor dogs. In the past, canines led their owners to wells where there were clean sources of water.  Carrying on this tradition, the Miao use the celebration as a chance to pray for good weather and a good harvest.
In addition to dressing up the dogs and carrying them around in caravans, the Miao have a set of additional rituals that they practice to encourage a good harvest.  These include wearing special hats and coats as well as playing music and covering themselves in mud.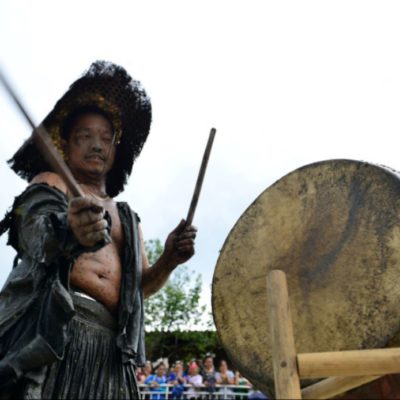 While some think this celebration is great, others have addressed it, saying the dogs look extremely uncomfortable.  Some online posters even went as far as to compare it to dog-eating practices! Whether you think this is a cool tradition or just a weird ritual, we can all be happy that this festival revolves around respecting dogs.  It stands in direct contrast to North Korea, where Kim Jong-un labeled dog meat a "superfood." That is something that we can all agree is just disgusting!
Check out some more of the awesome pictures from the festival below: