We all know that dogs are incredibly smart.  We've also seen highly trained police dogs and show dogs do amazing things.  But Chaser the dog is on another level.
Chaser: The World's Smartest Dog
Chaser the Border Collie garnered the title of "World's Smartest Dog" after her owner, 87-year-old Dr. John W. Pilley, taught her to recognize 1,022 words. Dr. Pilley is a retired psychology professor who has an unmatched love and understanding for dogs. When Anderson Cooper interviewed him in a 60 Minutes piece, he told Cooper that Chaser "is our child. A member of the family. She comes first." Dr. Pilley has done what many would think impossible – teach Chaser over a thousand words and sentences.
So how did Dr. Pilley achieve such a feat?  Unsurprisingly, it took time – a lot of it.  Dr. Pilley spends five hours a day, five days a week teaching Chaser language and tricks.  And he's been doing it for 10 years.  So if you're thinking about doing this with your own dog, be prepared to spend most of your free time training.
Dr. Pilley says that he believes that Chaser has the same mental capability as a 2-year-old human (though most 2-year-old humans only have a 50-75 word vocabulary).  Most of the words are related to toys that Dr. Pilley has for Chaser.  This picture of Chaser with her immense toy collection is a physical representation of Chaser's vocabulary, and it's pretty impressive: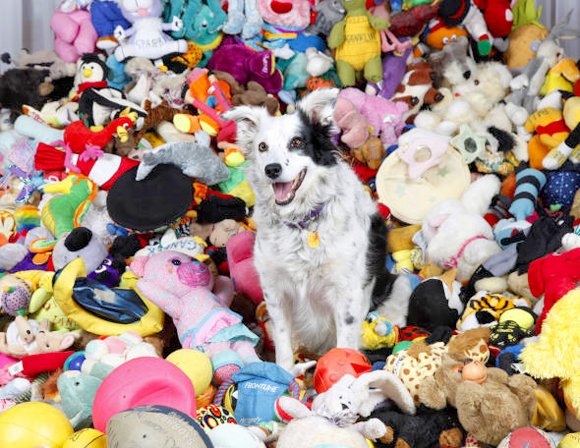 But Dr. Pilley didn't just teach Chaser the name of all 1,022 toys; he also taught her the meaning of verbs like "fetch," "paw," "take," and "nose" (as in a directive to put her nose on a toy).  Using these commands, Chaser can understand thousands of sentences.  This feat isn't just impressive.  It is a scientific breakthrough.  According to associate professor of evolutionary anthropology at Duke University, Dr. Brian Hare, Chaser is "the closest thing in animals we've seen to being like what children do when they're learning words."  He has called Chaser "the most important dog in the history of modern scientific research."
Teaching Your Dog
Dr. Pilley has laid out some of his best dog training tips:
Allow your dog to use her instincts to help her learn
Reward your dog with play, not food
Don't use the word "no" in a harsh way
Don't push too hard.  Back off when you think your dog is frustrated
Teach verbs before object names
Real learning is problem-solving. Teach problem-solving
See Chaser's story here:
If you're still not totally satisfied with what you've learned about Chaser, go check out her website at this link.