When we think of crazy cat ladies, we envision a woman with messy hair, wearing big clothing, and living with six-plus cats. Now, what would you imagine if you hear about a man that lives in a dream home in California with 22 rescue cats?
Peter Cohen shares his gorgeous home in Santa Barbara with 22 rescue cats. These cats all have unique yet adorable names: MiniBean, Smokey, Vanilla, Mango, The Professor, Mikan, Climber, Blackbird, Jupiter Jones, Smudge, Nugget, Nutter, Butter, Crumple, Rumple, Cookie Monster, Secret, CoffeeBean, Donut, Cheesecake, Chocolate, and Poppyseed. Whew, what a mouth full.  Just check out what feeding time looks like!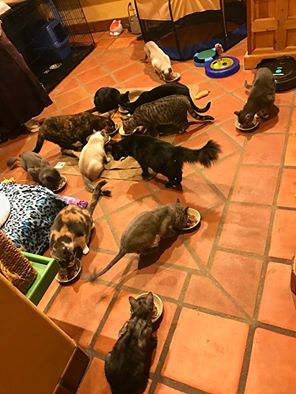 Other than living at home with all of his beautiful felines, Cohen is a contractor by trade. This allowed him to "transform his house into an indoor cat's dream home," according to The Dodo. Apparently, he has "affixed walkways high up along his walls, sunning stations up near the skylights, portholes for traveling between rooms and a wealth of little private nooks and crannies for the felines to curl up in."  Here's one of the perches Cohen created: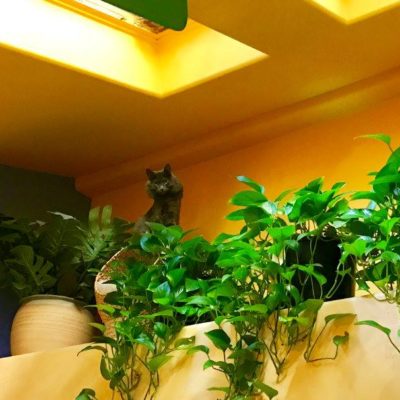 And he's created some amazing climbing areas in his home too.  Check out the shelves behind the spiral slide – this is one decked out dream house:
After he bought his home in the late eighties, he had two cats that unfortunately got hit by a car. After that, he decided he wanted to keep all of his cats indoors. This sparked his inspiration to transform his home.
Unfortunately, after his cat Peanut passed away from FIP (Feline Infectious Peritonitis), he adopted Miss Bean, who was then diagnosed with FIP. Cohen contacted the researchers of this disease at the University of California, Davis, and found a drug to try. Miss Bean sadly didn't make it. Cohen then purposely adopted a FIP kitten (Smokey) to put into the research trial. I'm happy to report that Smokey is doing well.
Cohen had started with two cats and ended up with 22 and counting. When you adopt a few dogs or cats and make your spare room a hang-out area for them. It's another thing when you transform your entire house into a dream home for these four-legged animals.
Needless to say, his story got out, and he's pretty famous now. He has a Facebook page called Zen By Cat, where he updates his fans on how his cats are doing, along with links and information on donating to the FIP researchers and more.  Check out his full story here:
It's nice to see people being a little selfless these days. Animals don't have voices. We have to stick up for them and help them live good lives. After all, they live fairly short ones. I'm happy to see Cohen taking such good care of so many cats and kittens that need help. It's even more impressive to see that he's using his fame from this to find a cure for FIP, along with participating in humane journeys. Thank you, Peter Cohen!