Fans of The Mandalorian instantly recognize images of The Child (better known as Baby Yoda). And any excuse to add that adorable little alien around your house can't get missed. Which is why stumbling upon precious dog Baby Yoda costumes is so lucky. We have them - suitable for every canine shape and size!
Ask anyone to describe their definition of "cute," and you're bound to get a range of answers. The odds are pretty high you'll hear puppies and kittens somewhere on the list, though. And this is because people love baby animals. They don't even need to be REAL to pull at your heartstrings. Nothing demonstrates this better than the phenomenon of Disney's The Child – better known as Baby Yoda. The moment people saw those big eyes and ears, they fell in love. So why not COMBINE two things you find adorable? (Talk about cute overload) And with Baby Yoda dog costumes, you can!
Disney's The Child
One of the first original series to premiere on Disney+ in the fall of 2019 was The Mandalorian. Star Wars fans knew, of course, but no one was prepared for that little green baby alien to make an appearance. And Disney wasn't prepared for the response of the world to their creation. The first episode only provided a few seconds, and people began screaming and clamoring for more.
Disney did their best to focus people toward Mando's character (you know, the title?), but The Child took center stage. Fans even ran away with the "Baby Yoda" name, ignoring Disney's media campaign that clearly labeled the infant "The Child." Baby Yoda rolled off the tongue easier. And it's stuck, even after the second season granted his true name, Grogu. (My apologies if that's a spoiler, but, honestly, social media probably did that already)
But why was the cutie so popular – to the point that people clamor for Baby Yoda dog costumes? (Among other things) It's actually rooted in our biology.
Baby Brains
Baby Yoda shares a lot of the features we associate with "cute:"
Large head but small face
Big eyes but small nose
Short limbs
Playful behavior
This is known as kindchenschema or "baby schema" – a term created by Konrad Lorenz in the 1930s. He felt kindchenschema caused us to care for infants. The "helpless" features provoked a caring response – even for first-time parents. And it works across species, too. It's why we bring home those big-eyed puppies and kittens from shelters.
Of course, it doesn't work for ALL animals. Plenty of reptiles lay their eggs and leave them – even if the babies have those adorable features. Their brains are wired differently. And while WE find baby monkeys enchanting, they're not impressed with baby animals – and that includes humans.
It explains why humans work so hard to protect Baby Yoda, at least. And it lets you know why you scramble to collect everything you can find with that adorable little alien face (says the person with Baby Yoda stickers on her computer, sipping water from a mug with The Child on it, wearing ankle socks plastered with his face). Or why you may want to locate a Baby Yoda dog costume for your favorite canine companion.
Choosing a Baby Yoda Dog Costume
Whether you're looking for the perfect Baby Yoda dog costume for Halloween, planning to celebrate May the Fourth in style, or feeling like a movie marathon deserves proper wardrobe, you want to approach your search with care. Adorable as that little alien is, you need your pup to remain comfortable in their new costume. And that means checking for these key features (not just that cute factor):
Size: Every costume comes with a different sizing chart. You need to follow their instructions to get the best measurements and repeat them several times. A list of breeds or weight WON'T guarantee your Baby Yoda dog costume will fit. And when it doubt? Go up.
Material: No one's going to judge you on accuracy when it comes to your pup. Instead, pick fabrics that match the season and your dog. Fleece works for hairless or short-haired dogs in colder regions. Polyester will make a better choice for fluffy dogs and warm weather.
Comfort: You want your dog to look cute, but they also need to stay comfy. Don't choose a costume with pieces they'll HATE. If they refuse to wear clothes, consider looking for a collar or harness with a Baby Yoda pattern instead.
Fasteners: Most dogs won't have a Jedi's patience. If you want the Baby Yoda dog costume to stay on for more than a few pictures, look for more than one Velcro hold or snaps to keep it on.
Baby Yoda Dog Costume Safety
All dog clothing requires attention to safety. If you know your dog likes to chew, don't pick a Baby Yoda dog costume with buttons or loose pieces. You don't want to turn this fun time into a trip to the hospital for a foreign body.
Any time your dog starts to look uncomfortable, remove the costume. As adorable as they look, you don't want them to become stressed. That isn't worth the photo session.
And there's no reason you need to risk your dog's health by striving for accuracy. Baby Yoda doesn't have a lightsaber, so your dog doesn't need to have a plastic toy in their mouth. And there's ZERO reason to break out hair dye. People will easily recognize the large ears and eyes of a Baby Yoda dog costume without the green fur.
Best Baby Yoda Dog Costumes
Finding ways to include your canine companion in your favorite fandoms is priceless. And The Mandalorian is only the latest addition to the Star Wars franchise. With the right dog carrier bag and your own Mando costume, you and your pup are sure to turn heads. Or, you know, that Baby Yoda dog costume can help you both settle in and watch your favorite episodes. (Those of us who are true fans don't need a particular reason for the things we do) As long as your dog's comfortable, feel free to let the cuteness reign! 
Bark, and Go makes an adorable Baby Yoda dog costume. The "overall" is made from fleece in the expected beige color. You also get a fleece snood, complete with those enormous ears. They provide size charts to accommodate ANY dog, with TWENTY different sizes to choose from – or they'll custom make a costume for you! And if you're not sure which size to choose, you're asked to provide all of the measurements as part of the ordering process, so they'll make sure you get the perfect fit. If something isn't right, you can always return it.
Downside? This is easily the most expensive of the Baby Yoda dog costumes. Of course, it's coming from Ukraine, so that's expected with the shipping expense. It also doesn't have fasteners. This may be positive to you, but it could also lead to your dog feeling overly warm. Make sure you monitor them closely while they're in the costume.
While not specifically listed as a Baby Yoda dog costume, Kari's Fancy Pups will work equally well. You get a comfortable muslin jacket that ends in soft flannel. The inside and collar are trimmed in fake wool (so it looks authentic, but your dog won't overheat). And there's a ribbon belt held closed with Velcro. The hood is cotton lined with flannel, and it has those precious big ears attached. It has the same Velcro for easy adjustments. It's available in eight different sizes. And, best of all, the entire costume's machine washable!
The downsides? You need to look at your ordering time carefully. They don't start making Baby Yoda dog costumes until orders get placed, and it takes two weeks to create each one. If you want it by Halloween, you need to place the order by late September. And, realistically, they find themselves piled up with work starting in August. Also, sizes are mostly based on back length, so they may not work well on deep-chested breeds, such as Dachshunds and hounds.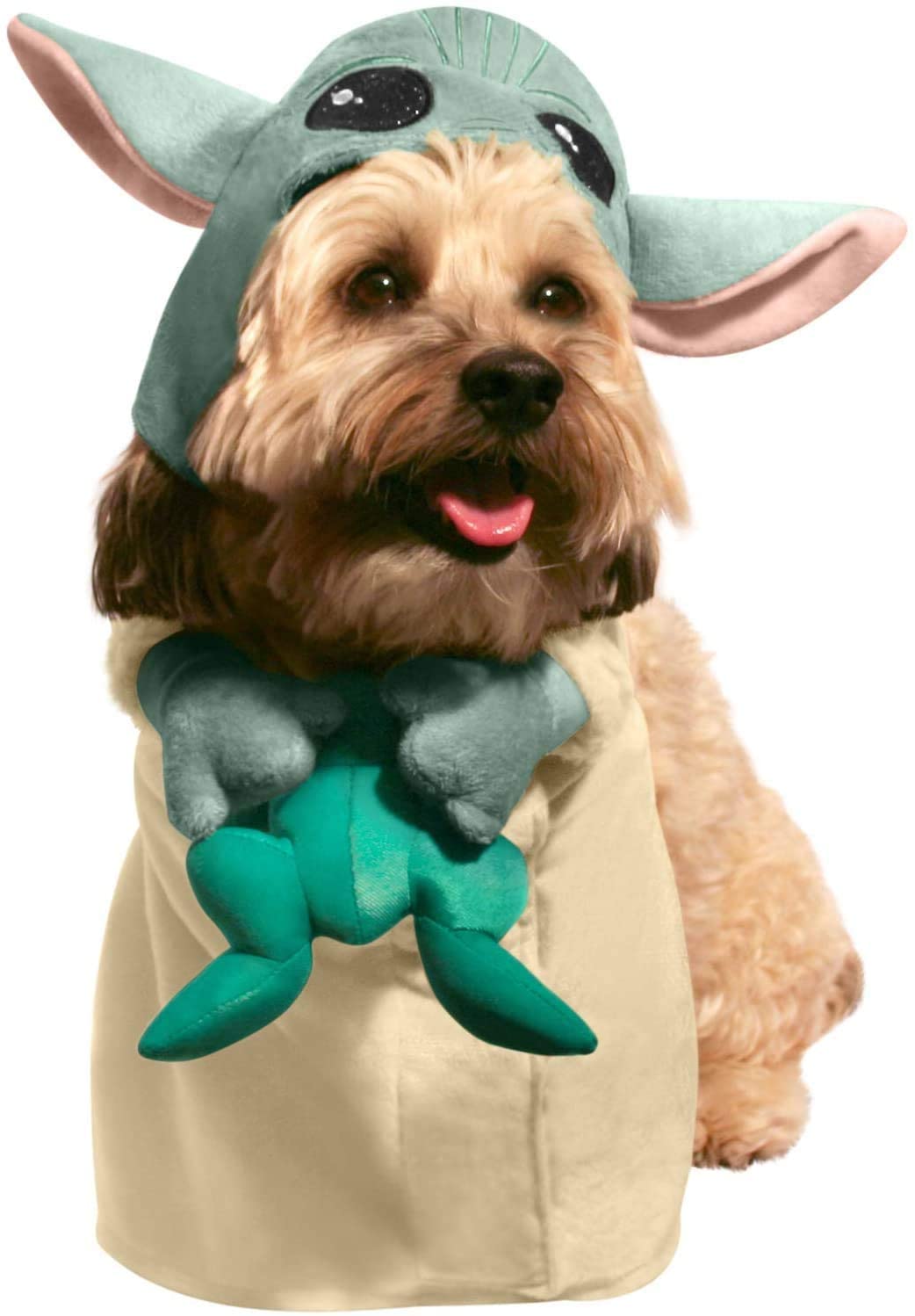 Rubie's is one of the top manufacturers of dog costumes. And they have the only Baby Yoda dog costume officially licensed by Star Wars. That means it comes up as The Child, of course. A step-in costume, your pup wears the costume on their front legs. And it consists of a hooded robe (complete with fake arms clutching a frog creature) and a headpiece. The polyester is light and breathable. And the headpiece has the large ears AND those precious big eyes.
So what are the downsides? The costume comes in four sizes, but they're only going to fit small and medium sizes (figure around 50 pounds, max). Most people also found the hood a little too heavy to stay on their dog's head.
Perhaps this Yoda costume from Rubie's is meant to imitate the Jedi Master himself. Does that mean you can't repurpose it as a Baby Yoda dog costume? Of course not. After all, this step-in costume allows your dog's face to shine as the adorable center. It includes padded arms within the robe. And the headpiece has the same large green ears you're looking for. Star Wars granted their official license to the costume, and this version omits the white fluffy hair on the headpiece that would age it. It's an idea, anyway!
Downsides? This costume comes in the same four sizes as The Child, so you'll come up against the same weight estimate. And, unhappily, the headpiece doesn't want to stay on here, either.
As cute as Baby Yoda dog costumes may be, not all pups tolerate them. But Rubie's has a solution for that with their Yoda Headpiece. Instead of needing to wrestle your dog into multiple pieces of clothing they may hate, all you need is this simple headband, held on with an elastic chin strap. They'll still look cute with the big green ears, but they won't have to fuss with getting overheated. And you have two sizes to choose from. Plus, you have that official license from Star Wars on the packaging and label.
The downsides? So, there are no measurements to take with the headpiece. They offer a chart with breeds that work for each size, but it's kind of a guessing game. Some people felt the sizing ran small, others big. It's also not a durable plastic band under the polyester, so treat it gently.
Star Wars created a second Baby Yoda dog costume in addition to Rubie's offering. You get a polyester shirt that closes with Velcro, trimmed with fake wool at the cuffs and collar. Then there's a headpiece with the iconic baby alien face. There's no doubt your pup will look adorable and gain everyone's attention. And you have the promise of the official license, to boot.
So what are the downsides? You only get two sizes this time, and they're both designed for small breeds. Plus, there's no elastic or Velcro to attach the hood, so it doesn't stay on at all. You'll want to snap those pictures quickly.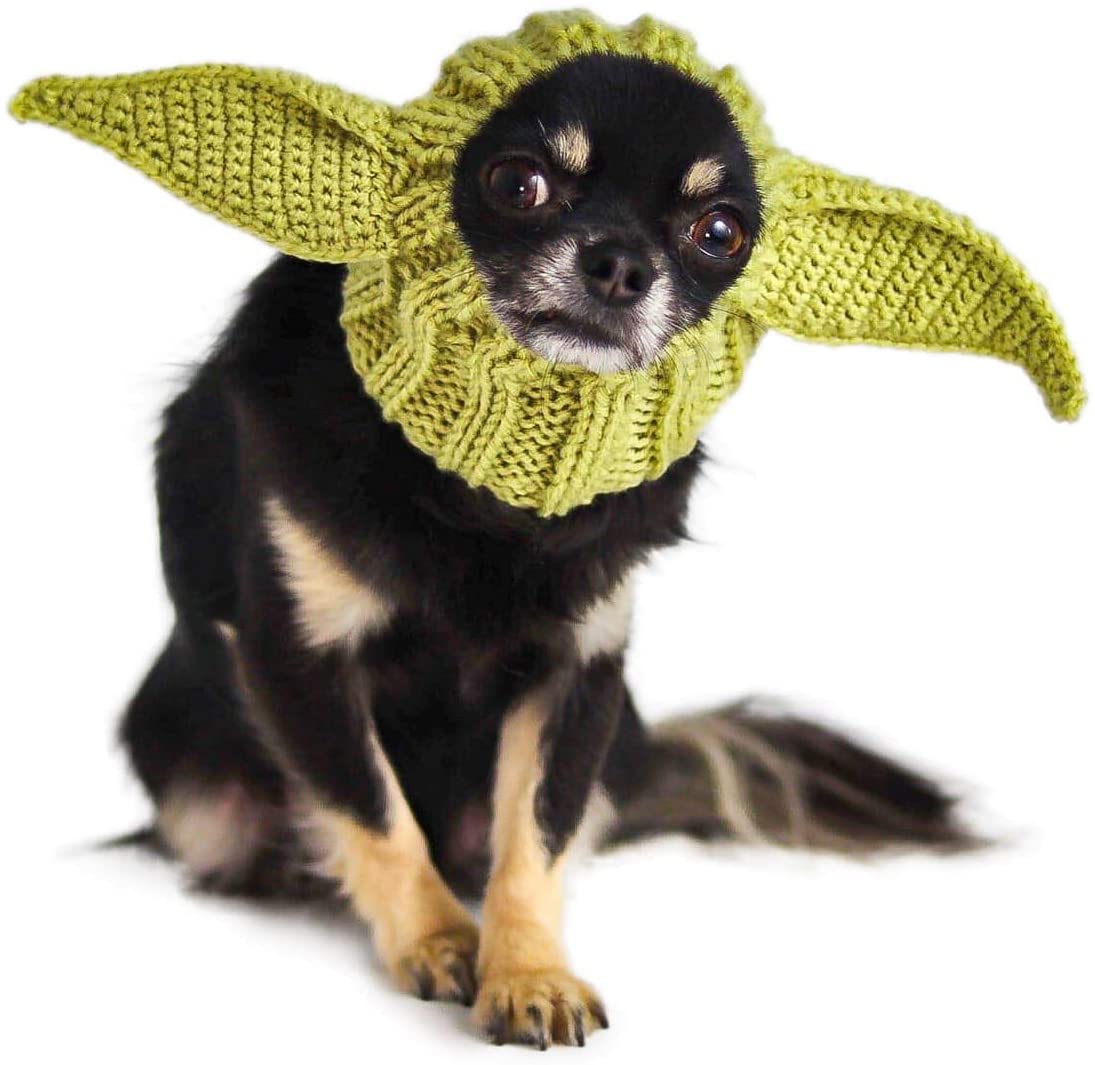 Maybe you want Baby Yoda dog costumes your pup can wear any time. That's where Zoo Snoods comes in. The soft yarn's the perfect shade of green, and it won't irritate the skin. Meanwhile, it sports those big ears out the sides. And it's the perfect thing to keep the ears and neck warm while keeping dirt, rain, or snow from getting in. And in three sizes, it should fit just about any dog – even most giant breeds.
Downside? As this is a knit product, you'll want to watch your dog when they scratch. If you don't keep their nails trimmed, they may catch it and cause snags.
"This is the Way"
Am I a little biased about geeky things such as Star Wars? Well, if you've scoped out our name posts, you know the answer to that question. But there are plenty of others out there who love The Mandalorian and can't wait to find those perfect Baby Yoda dog costumes. For Halloween. Or May the Fourth. Maybe even Friday night (when their favorite Star Wars program airs).
And letting the world know about your fandom of choice? There's nothing wrong with that. As long as your dog is comfortable and safe in the process. THAT is the way.