Nothing beats receiving a colorful bouquet on a special (or even an ordinary) occasion. Or perhaps you have a green thumb and delight in waking each morning to the explosion of color outside your window. If you share a household with cats, though, you may fret over where to set that vase of flowers. And what about the neighborhood ferals? You see them exploring your plantings all the time. Are those flowers safe for them to roll around in? You love your plants, but you don't want to cause any harm. Not to worry – we're going to provide you with a starting list of cat-friendly flowers and plants you can keep in and around the house. You'll get the same burst of color and scent without worrying about a trip to the vet.
Cats and Plants
There's something about plant life that draws cats. They nibble at leaves and blossoms, bat at trailing vines, explore the dirt in pots, drink from reservoirs, and watch in fascination as planters swing in the breeze. Unfortunately, ingesting most parts of a plant can result in GI upset. And some flowers and plants have the possibility of causing more severe reactions. Checking for cat-friendly flowers and plants to protect your fuzzy companion from harm is the first step on your journey toward a gorgeous garden or indoor plant wonderland.
However, you can't stop there. Combining plants and cats requires careful planning. After all, cats overflow with curiosity, and they're going to investigate your new leafy addition to the household – no matter where you try to place it. Make sure you follow these steps before you introduce ANY plant to your home or garden:
Confirm with the store that NO chemicals were sprayed on the plant. You use pet-safe herbicides, but they might NOT.
Check the species name. Many plants look similar, and you don't want to purchase a toxic variety by accident.
For indoor planters, make sure the pot's bottom has extra weight so your cat can't tip it over.
NOTHING is out of reach, even hanging pots. Don't think you can choose a non-cat-friendly flower and anchor it to the ceiling. Your cat WILL figure out how to reach it. (Trust me)
Toxic or Non-Toxic?
How to know whether the plant you've been eyeing is cat-friendly? The internet often provides conflicting information, and employees in stores may not have the answer. Good thing the ASPCA Animal Poison Control Center maintains a list of plants targeted toward cats! You can search through the list by the plant's common names or scientific names, including toxic and non-toxic plants. Once you've found your flower, the link takes you to the listing, which provides a full description of the possible reactions. (And, yes, I promise I cross-referenced this list with theirs. Safety first!)
Cat-Friendly Flowers
You love the rainbow of colors and the smell of flowers. They make you smile each time you enter a room or step out onto your balcony or porch. With flowers available that bloom throughout the seasons, you have the opportunity to add brightness year-round. And with these cat-friendly flowers, you'll get peace of mind, too. It's not a great idea to let your cat consume a TON of the blossoms or leaves – it'll upset their stomachs – but at least you won't need to worry about toxins. Now let's create that bouquet, shall we?
Aster
Varieties: New England Aster, New York Aster, Heath Aster, October Skies Aromatic Aster, Whitewood Aster, Lady-in-Black Calico Aster, Bluebird Smooth Aster
Scientific Name: Symphyotrichum spp., Ionactis spp., Eurybia spp., and Doellingeria spp.
Description: Asters resemble daisies, coming in shades of blue, pink, and white. They're perennials, meaning they bloom every year. Besides being cat-friendly, bees, birds, and butterflies love asters, making them the perfect choice for outdoor gardens.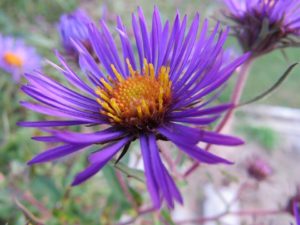 African Violet
Varieties: African Violet
Scientific Name: Saintpaulia spp.
Description: African violets work perfectly indoors and outdoors. These tiny purple flowers don't require much in the way of sunlight, though they're demanding in their water needs. If you're one of those who over-or under-water, you may need to skip this plant.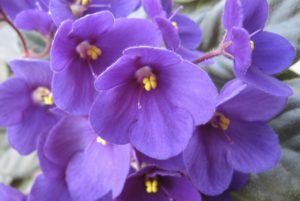 Celosia
Varieties: Toreador, Chief Series, Neo Gold, Bombay Fire, Sylphid, Apricot Brandy, Sunday Red, Ice Cream Salmon, Flamingo Feathers, Glowing Spear Mix, Celway, Kosmo Purple Red
Scientific Name: Celosia cristata, Celosia plumose, Celosia spicata
Description: "Celosia" derives from a Greek word meaning "to burn." Easy enough to see why, as these vibrant flowers resemble bursts of flame. You'll find colors throughout the rainbow. As an edible flower to begin with, you can rest easy keeping this cat-friendly flower around the house. An annual, these flowers bloom just once a season. Some varieties choose summer, others fall. And while non-toxic, the blooms don't do so well when your cat sleeps on them (personal experience).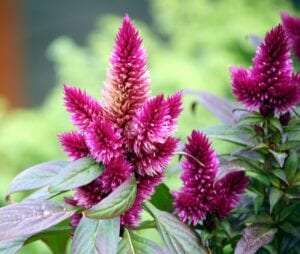 Gerber Daisy
Varieties: African Daisy, Veldt Daisy, Barberton Daisy
Scientific Name: Gerbera jamesonii
Description:

Despite carrying the daisy name, Gerber daisies share the same family as sunflowers. (And, if you look closely, they share a similar appearance, too) These large blooms come in almost any color you can think of, and they look amazing scattered among your garden plantings.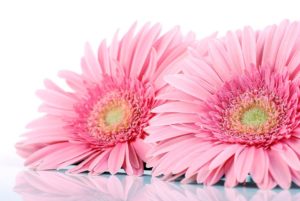 Hibiscus
Varieties: Hibiscus
Scientific Name: Hibiscus rosa-sinensis, Hibiscus syriacus
Description: If you REALLY want an entire rainbow to choose from, you can't go wrong with hibiscus. These stunning cat-friendly flowers come in over ONE THOUSAND colors! The blooms handle indoor and outdoor plantings equally well, but if you set them outside, the butterflies and hummingbirds will love you forever. (Not to mention your cat will adore you for providing entertainment through the window)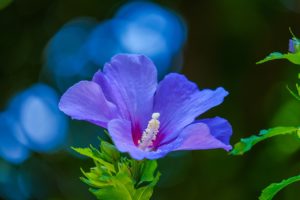 Ice Plant
Varieties: Ice Plant
Scientific Name: Lampranthus piquet
Description: Ice plants share a similar appearance to daisies, though they don't have the same variety of colors. The spiky flowers come in bright magenta. This cat-friendly flower prefers dry soil and bright sunlight, and it does well inside and outside. They form succulent-like leaves (don't worry if your cat nibbles them). Under proper conditions, you can enjoy the flowers all the way from spring to the first frost (hence their name).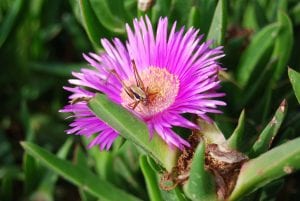 Impatiens
Varieties: Impatiens
Scientific Name: Impatiens spp.
Description: If you want a flower that stays in bloom throughout the year, you can't go wrong with Impatiens. These cheery little blossoms enjoy the outdoor setting (balconies and window boxes suffice, too), and the vibrant colors cheer your view each time you glance out the window.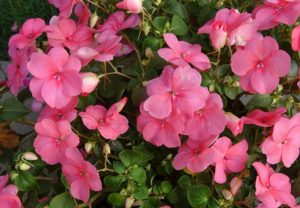 Madagascar Jasmine
Varieties: Wax Flower, Bride's Flower
Scientific Name: Stephanotis spp.
Description: Madagascar Jasmine may not come in various colors, but the small, star-shaped flowers look beautiful draping over walls or as part of a gorgeous bouquet. They have no problem dangling down over a well-secured pot inside, either. Make sure you anchor any hanging planters, though – you don't want your cat swinging from the rafters. This may be a cat-friendly flower, but you don't want to clean up broken pottery shards.
Marigold
Varieties: Garden Marigold
Scientific Name: Calendula officinalis
Description: Marigolds do fine starting inside, but they prefer rich, healthy soils and plenty of unfiltered sunshine. And while these cheery flowers might brighten your day, most people don't appreciate the pungent smell they put out. However, neither do insects. As a matter of fact, marigolds make the perfect natural insect-repellent for your garden. And if a roving feral happens to sample a petal, you don't need to worry. The flowers are edible for EVERYONE, making them a cat-friendly addition to the backyard.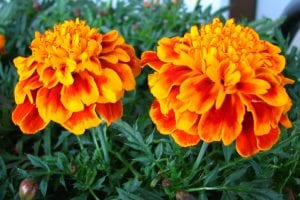 Orchid
Varieties: Brazilian Orchid, Crimson Cattleya, Ruby-Lipped Cattleya, Christmas Orchid, Winter Cattleya, Cirrhopetalum, Old World Orchid, Cocktail Orchid, Dancing Doll Orchid, Easter Orchid/Cattleya, Fiery Reed Orchid, Scarlet Orchid, Florida Butterfly Orchid, Ghost Leafless Orchid, Golden Lace Orchid, Jewel Orchid, Golden Shower Orchid, King of the Forest Orchid, Lace Orchid, Leopard Orchid, Tiger Orchid, Lily of the Valley Orchid, Pansy Orchid, Phalaenopsis Orchid, Moth Orchid, Moon Orchid, Rainbow Orchid, Spice Orchid, Tailed Orchid
Scientific Name: Cymbidium, Dendrobium, Oncidium, Cattleya, Odontoglossum, Epidendrum, and Phalaenopsis spp.
Description: Orchids may rank as one of the MOST difficult flowers to maintain. Ask any orchid enthusiast (Orchidist), and they'll happily regale you with lists and lists of care instructions. And while most of the orchids available rank as cat-friendly flowers, you may not appreciate your feline batting at one of your prize blooms. If you genuinely desire to keep orchids around the house, consider devoting a room just to them.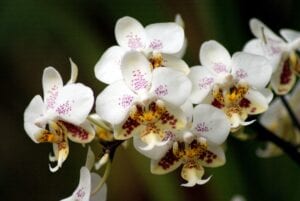 Petunia
Varieties: Grandiflora, Multiflora, Milliflora, Spreading/Wave
Scientific Name: Petunia spp.
Description: Originating in South America, Petunias come in different colors, sizes, and growth patterns. These cat-friendly flowers bloom best during the summer months, and they add delight to any garden. If you want to keep your Petunias inside, opt for the Milliflora varieties, as they're the smallest.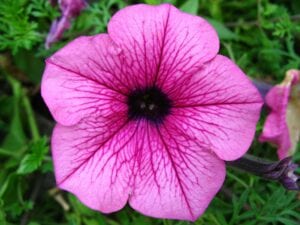 Rose
Varieties: Rose
Scientific Name: Rosa spp.
Description: "A rose by any other name is…" NOT a rose, actually. While most people recognize these iconic blossoms, there are other flowers in the world with "rose" in the name which aren't as cat-friendly as this particular flower. And while the petals are harmless if consumed (personal experience – my cat consumed every single one in a Valentine bouquet one year), you need to watch out for the thorns. Trauma easily results if your feline brushes against the plant. And chewing on the stems may cause a foreign body. Keep an eye on where you put your rose bouquets in the house. Also, avoid any of the following rose imposters at all costs – they're TOXIC:

Christmas Rose
Desert Rose
Moss Rose
Primrose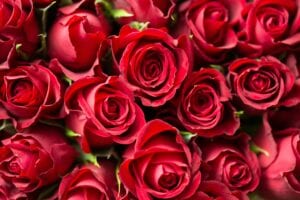 Snapdragon
Varieties: Snapdragon
Scientific Name: Antirrhinum majus
Description: Snapdragons form towering spikes in the early spring and late fall, making them a frost-resistant flower that brightens gardens. The unique flowers resemble a dragon's head, which is where the name came from. Some people use the flowers as a garnish on plates, but the blossoms can have a bitter taste. It's edible and a cat-friendly flower, but you may see drooling if your kitty nibbles them. Offer tasty canned food to get rid of the unpleasantness.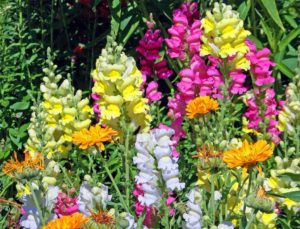 Sunflower
Varieties: Sunflower
Scientific Name: Helianthus spp.
Description: Sunflowers combine form and function. The cheery gold flowers brighten gardens, yet every part of the plant is also edible! (You've probably enjoyed sunflower seeds on a salad or as a snack) Your cat won't show much interest in the seeds, but if they sample some petals, you won't have to fret. These giant blooms come in as one of the largest cat-friendly flowers you can find. You'll also find them favorites with the birds and squirrels in the neighborhood.
Waxflower
Varieties: Waxflower
Scientific Name: Etlingera cevuga
Description: Waxflowers find a place as filler material in bouquets. However, the colorful little blossoms work equally well in gardens or planters around the house. They won't disturb your cat if chewed (unless your kiddo ingests the entire plant – then expect some GI upset), and they look cheerful on your shelves or the windowsill.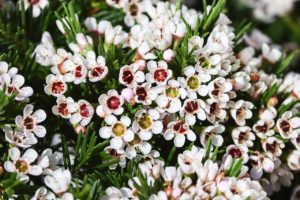 Zinnia
Varieties: Zinnia
Scientific Name: Zinnia spp.
Description:

Zinnias are another annual that enjoys hours and hours of sunshine. You'll find abundant colors to choose from, and even if you don't have the best track record with plants, they're a hardy flower to keep. If you want the best chance of success for your garden, look for Zahara varieties – they're the most resistant to disease and mold problems that can crop up with older varieties.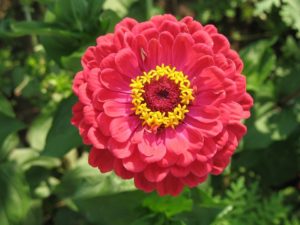 Cat-Friendly Plants
Perhaps you're not the flower type. Strong or even subtle scents may cause a flare of allergies. (I understand completely) You still love having greenery around the house, though. Not to fear! Cat-friendly flowers aren't your only option. Cat-friendly plants exist to fill in the gaps in your garden or add a bit of fresh air to your living room. Even better, these plants are sturdy enough to hold up to feline investigation and prodding. You just need to make sure you provide a sturdy home for your little green friend.
Bamboo
Varieties: Bamboo
Scientific Name: Phyllostachys aurea
Description: Bamboo grows surprisingly well indoors. (It'll grow fine outdoors, too, but unless you want to sacrifice your yard and your neighbors' yards, stick to pots to contain the beast) The woody shoots have no problem resisting teeth or claws, and the green looks fantastic against any setting. Best of all, this is one cat-friendly plant that requires minimal work on your part. However, you will need to trim it now and then to keep things under control.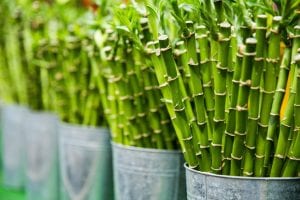 Cat Grass
Varieties: Oatgrass, Wheatgrass, Orchard Grass
Scientific Name: Dactylis glomerata
Description: You've probably seen feral cats nibbling at your lawn. Of course, the odds are they then threw up. Cat Grass goes easier on feline tummies, combining barley, wheat, and rye into a single plant. You'll find starter plants in pet stores, and some hydroponically-grown Cat Grasses happily live in your cat's automatic water bowl. You can provide a healthy after-dinner snack that adds "roughage" to your cat's diet with no concerns over toxicity.
Catnip
Varieties: Catnip, Catmint, Catwort
Scientific Name: Nepeta cataria
Description: Catnip comes in as a controversial entry on the cat-friendly plant list. It seems to make sense. After all, cat toys often contain dried catnip to entice cats to play. And who hasn't laughed over a cat "high" on the released oils from this ground-covering plant? The problem – and why the ASPCA Poison Control Center has it on the Toxic List – is because the reactions vary. Some cats end up TOO stimulated, resulting in aggression or excessive clumsiness. Others become sedate, unable to escape from dangerous situations. Cats only react to broken catnip leaves, though, where the oils get released. Plant it outside with caution. And be prepared for the plant to take over – it grows like a weed! (I can, um, vouch for that)
Christmas Cactus
Varieties: Christmas Cactus, Holiday Cactus
Scientific Name: Schlumbergera bridgesii
Description: When you want a festive burst of color for the holidays without risking your cat, you can't go wrong with a Christmas Cactus. Devoid of the sharp spines associated with other cacti types, this succulent doesn't produce points along the spreading buds. And as the holidays roll around, you'll see beautiful flowers ranging from red to orange. It's a beautiful cat-friendly flower and a cinch to take care of. I have a black thumb, and I kept one alive for six years! (Unfortunately, the poor cactus didn't survive being dismantled by our youngest cat. She didn't have any problems, but it turns out Christmas Cacti don't hold up against the ravages of six-pound kittens)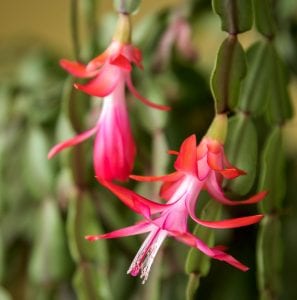 Spider Plant
Varieties: Ribbon Plant, Airplane Plant
Scientific Name: Chlorophytum comosum
Description: Spider plants may be one of the easiest plants to care for. They thrive under almost any conditions, and when they overgrow the planter, you trim the extra and plant the trimmings in a new pot to establish a fresh plant! The leaves hold up to the nibbling of feline teeth, and they'll even resist a curious, batting paw. You'll get a lovely spill of greenery in any room.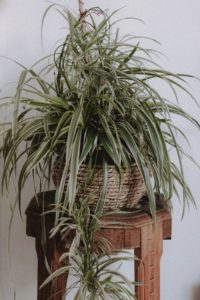 Venus Flytrap
Varieties: Venus Flytrap
Scientific Name: Dionaea muscipula
Description: Crazy idea, right? However, while Venus Flytraps may prove lethal to that fly sneaking into your house, they're completely harmless to your cat! The delicate triggers that allow these carnivorous plants to catch and feast on insects won't matter to curious paws, whiskers, or even teeth. From you, all these cat-friendly plants request is bright sunlight and occasional refills of distilled water. What could be simpler?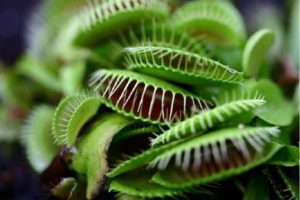 Cat-Friendly Herbs
If you enjoy fresh additions to your cooking and baking, odds are you have a window box or garden planting of herbs. These fresh little plants add extra flavor that can't compete with the dried version. And keeping your herbs handy beats having to make a trip to the grocery store. You may set up cat deterrents to keep your cat from the counter, but they may not always work. If you're concerned that your cooking supplies pose a threat, take a deep breath. The following cat-friendly herbs won't harm your fluffy friend if they take a sample. (They're just performing quality-control, anyway)
Basil
Scientific Name: Ocimum basilicum
Description: Basil loves warmth and sunshine. You need to ensure

proper drainage for this herb, as it's a plant that hates "wet feet." However, when it comes to cats, it's safe for your kiddo to nibble at the leaves.
Cilantro
Scientific Name: Coriandrum sativum
Description:

You may know Cilantro as Coriander – it's the same plant.

Some people enjoy adding the herb to their cooking, but others object to the taste. It turns out some (I'm one of them, to the irritation of my husband) have a genetic fluke that prompts cilantro to taste like soap. No one knows if the same applies to cats, but we DO know this particular herb is cat-friendly.
Chervil
Scientific Name: Anthriscus cerefolium
Description: Unlike some cooking herbs, Chervil prefers to hang out part of the time in the shade. It's also one of the trickier plants to manage. Other herbs handle transplants without a problem, but Chervil HATES moving from place to place. You'll want to choose a pot or box large enough for your Chervil to grow into so you don't have to shift it later. Otherwise, if your cat investigates this particular herb, you don't need to worry – it's a cat-friendly flower.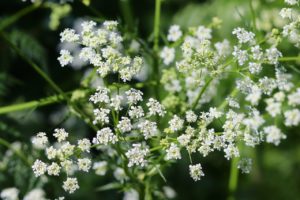 Dill
Scientific Name: Anethum graveolena
Description: Dill works well with plenty of dishes, but managing the herb takes patience on the part of the gardener. You'll need plenty of sunlight, as well as room for the plant to stretch up. Once the herb "goes to seed" (stops growing) for the year, it's done. You'll have to move it outside if you want to continue adding fresh dill to your cooking. It's the only downside to growing your own.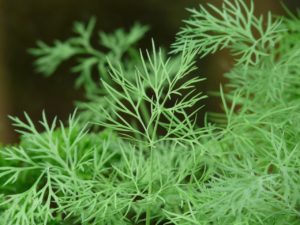 Lemon Balm
Scientific Name: Melissa officinalis
Description: Citrus ISN'T safe for cats. All citrus fruits have the potential to result in toxicity. However, Lemon Balm adds that acidic bite to your cooking WITHOUT causing any concerns in your household. This herb is 100% cat-friendly! You can keep it in containers inside, and it doesn't need the direct sunlight of other herbs. It's the perfect compromise!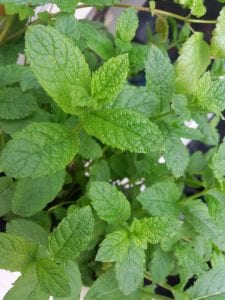 Rosemary
Scientific Name: Rosmarinus officinalis
Description: Rosemary works for cooking AND baking. It's also one of the simplest herbs to manage. Forget to water your plants? Rosemary will handle a little neglect better than other herbs. Your cat can take a nibble of the stems with no worries. Who knows – you may find they enjoy that sharp taste! (Of course, you may not want that if you're trying to keep the herb for practical use)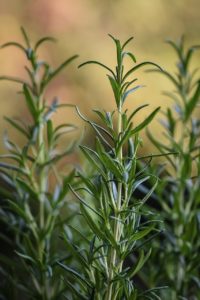 Sage
Scientific Name: Salvia officinalis
Description: Sage wants to join most other herbs in the window that gets the most sunlight. You'll also want that well-draining pot or window box (no "wet feet"). It's not a problem if your cat decides to sample the leaves or play with them – they're cat-friendly.
Thyme
Scientific Name: Thymus vulgaris
Description: Thyme breaks the usual herb cycle when it comes to water; this plant doesn't tolerate the soil getting dry. You may struggle to find the right balance between full sunlight and meeting the water needs of this cooking staple. At least you won't need to fret when your four-legged friend saunters by to check on the plant's growth!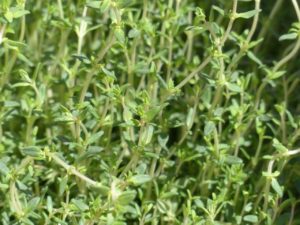 Exposure to Non-Cat-Friendly Flowers
Unfortunately, you don't always recognize all of the plants in flower arrangements we receive as gifts. Or you may have an outdoor cat who ducks through neighboring yards filled with plants you can't see. What do you do about flowers and plants that may not be cat-friendly? Especially since toxic plants may pose problems from their pollen, flowers, needles, seeds, OR leaves (or ALL of the above!).
First, keep an eye out for ANY unusual symptoms:
Decreased appetite
Pawing at the nose or mouth
Sneezing
Coughing or gagging
Vomiting or diarrhea
Lethargy
If you KNOW your cat's ingested a plant, immediately call the ASPCA Poison Control Center at 1-888-426-4435. (There is a fee for the call, but they have the best information on managing poisonings). Then get yourself and your cat to the vet ASAP. Bring the plant with you. It'll help everyone to know what they're dealing with.
Little Green Things
Cat-friendly flowers and plants DO exist. With some research and careful reference to the Toxic Plant list, you can find greenery safe to keep around your house and yard. You'll get a supply of fresh air, a beautiful view, and the peace of mind that your cat's safe and sound. Even if they happen to take a nibble (or eat the entire blossom), you'll know they won't succumb to a horrible toxin.
Happy planting!