You're sitting down to relax after a long day when you start to sniff. You know that smell. It's a combination of lingering wet-dog, corn chips, and something undefinable that adds up to just one thing: time to wash the dog bed. Depending on what kind of bed you own, this may or may not be a simple task. Not every dog bed copes with the laundry. If you dread the inevitable task of cleaning this necessary piece of your dog's life, it might be time to invest in one of the best washable dog beds on the market.
Aren't All Dog Beds Washable?
We wish! It seems like it would make sense for all dog beds to be washable, right? After all, our dogs go outside. Unless you have a pressure lock installed on your house for your dog to go through each time, they're going to bring the outdoors with them. Rain, dirt, mud, slobber; all of these odor-bearing particles find their way onto your dog's bed. Over time, those smells build up, and even our noses reach maximum tolerance.
Yet not every bed on the market copes with the necessity of cleaning. (Crazy, right?) There are so many options out there for dog beds, and washing can slip through the cracks. Even if a tag promises you can put it through the wash, different features get in the way of the cleaning process.
Not all dog bed covers are removable. If you have a small dog, this isn't always a problem, but what if you have a large dog or giant breed?
Just because a cover comes off, it doesn't mean the process is easy. If you need an engineering degree to accomplish the task, you're going to avoid it, pure and simple.
Some fabrics aren't durable enough to handle repeated washings. They start falling apart. Now you have a bed and no cover, and most mattresses NEED that cover.
Other covers hold up while the zippers break down. If you can't get the cover back on, it's no good.
Then there are those non-skid beads that are so important for safety. If you've ever spent hours with a hand-vac, bent over your dryer, and cursing the inventor of those beads, you know not every cover is "easy" to wash and dry.
Tricks of the Trade
Wouldn't it be awesome if there were magic fabrics that never needed washing?
And there are!
Just kidding – technology isn't quite there yet. So, since you can't repel the dirt and smell your dog shares with you, how do you minimize the need for washing your dog's bed?
It turns out there are a few simple tricks you can employ to get those beds to hold out a little longer between trips to the washing machine.
Tricks for the Dog Bed
Ideally, you want your dog's bed to hold out as long as possible. Eventually, even the sturdiest dog bed is going to wear out. However, if you cut down on the number of times you put the bed into the wash, you can extend its life. This is especially true if you have a small dog and put their entire bed in the wash. Eventually, stuffing and mattresses give out. These tricks prolong that from happening.
Wipe down your dog's bed with a damp cloth. No, this won't do anything for mud or liquid messes, but it WILL remove hair, dander, and dust mites. It's amazing how much smell collects in those three things!
Use pet-safe stain repellants. It's so simple yet so effective. Your dog's bed gets protection from discoloration and stains.
Sneaky Tricks
If you're less worried about the duration of your dog bed and more concerned about presentation, there are tricks for you. Keep in mind, these won't help your dog's bed stay clean or smell better. This is more along the line of fooling the eye.
Pick a bed the same color as your dog. That's right, hide the hair in plain sight. If your dog is multi-colored, it gets trickier. Aim for the color they shed the most.
Choose a bed with complicated patterns. Dirt is harder to see on an intricate design. It's a lot easier to pick out on a solid color. (This is true of human clothes, too!)
Tricks for the Dog
They have yet to invent a livable plastic bubble for dogs. (Not much of a life for them, anyway) That means your dog is going to give their bed that lived-in quality. It doesn't mean you can't employ some tactics to head off the need for constant bed washing.
Clean off your dog when they go outside. Where do most of the dirt and debris come from? Outside. Use a damp cloth to rub your dog down after they come inside. Pay special attention to their feet. Our dog has a basket and towels that live inside the door for this very purpose.
Give your dog regular baths. A reasonable schedule is about once a month for most dogs. Make sure you dry your dog off THOROUGHLY after the bath, or their bed could end up getting used as a towel. (Kind of defeats the purpose of this trick)
Best Washable Dog Beds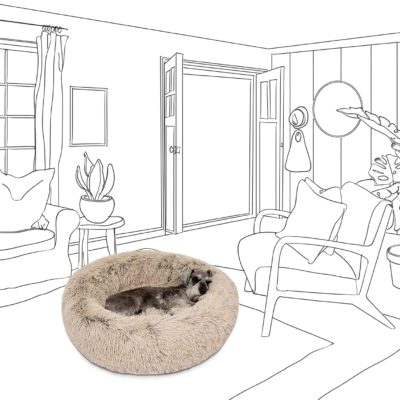 There are A LOT of dog beds out there. Plenty of the dog beds we reviewed ARE washable, though the drying feature is hit or miss. Feel free to take a look and see if your favorite meets your needs.
If thorough and easy cleaning are at the top of your list, though, you've come to the right place. Whether you have a small dog and want the ability to toss the entire dog bed into the washing machine, or you have a large dog and are seeking easy covers, we've got precisely what you're looking for.
Best Orthopedic Washable Dog Beds
Okay, so you're not going to find washable memory foam. The material itself breaks down. However, these beds come with removable, washable covers. Most people lean towards orthopedic beds for their dogs with arthritis. If you can combine supreme comfort with a washable feature, it's always a win-win.
Are you looking for something a little unusual? Dogbed4less has just the thing. Their denim cover is washable, and you know it's durable. Even better, they provide two covers with every bed, so your dog never has to hang out while their bed gets washed. The human-grade foam is topped with comfortable cotton stuffing that helps hold the mattress in place while they sleep.
Downside? That cotton stuffing is a BAD idea for chewers.
Laifug offers a comfortable orthopedic AND washable dog bed. Their microfiber cover is durable and tear-resistant. They designed the cover with a special waterproof liner to protect the mattress underneath. No worries, though; you can unzip it and toss it directly into the wash. The bed is a combination of foam and memory foam, cushioning your dog's joints while they sleep.
The downside? While the cover does fine in the wash, the zipper doesn't. People complained about zipper breakage a lot.
If you want that orthopedic option for your dog's crate, Milliard has the option for you. The zippered cover removes for easy washing, and it features a non-skid bottom. The mattress is a 4-inch thick egg-crate foam topped with a plush upper pillow layer for the ultimate comfort. The foam holds its shape for years, and Milliard provides a 100% satisfaction guarantee. Three available sizes slide this bed into the majority of crates without a problem.
So what are the downsides? Those non-skid beads require air-drying. And, unhappily, people didn't consider the dog bed to be as durable as others on the market.
PetFusion's twill fabric cover is water-resistant, tear-resistant, AND machine washable (three-for-one!). The bed comes in four different sizes, including Jumbo for giant breeds. The recycled Polyfill bolsters provide a cushy place for your dog to rest their head and feet. The base features a solid 4 inches of memory foam (your giant breed gets a stunning 6 inches!), cushioning your dog's joints. That's comfort and cleaning all in one!
Downside? People don't have much to complain about when it comes to PetFusion. The only complaint was the bed was too bulky to fit in a kennel. So unless you were hoping to use this dog bed in a crate, you're golden.
Best Bolster-Style Washable Dog Beds
Bolsters provide anxiety relief as well as comfort. You could be looking to head off separation anxiety, or you could be hoping to provide head and neck support (maybe foot support, depending on how your dog likes to sleep). Either way, there's a washable dog bed out there that'll do the trick.
Friends Forever is another cuddler-style bed. Dogs love the faux fur cover, and the 360-degree bolster provides head and neck support. The best part? The ENTIRE BED goes straight into the washer and dryer! You need to use the gentle cycle and low heat setting, but how can you beat one step in the wash process?
Downsides? With only two sizes available, larger dogs get left out. The faux fur cover is NOT suitable for chewers – too much temptation. Also, people struggled to get the bed dry. The debate is out on whether you need strong dryers or just a lot of patience.
Furhaven provides three bolsters, allowing your dog to choose their preferred sleeping position. The plush faux fur on the base and soft microsuede cover for the bolsters are super soft, inviting your dog to cuddle close. The mattress is a sturdy egg-crate foam, while the bolsters contain reclaimed plush. The covers zip straight off and are completely washable.
The downsides? The faux fur is NOT a good choice for chewers. This is another bed where the cover is more washable than zippers. Also, compared to other dog beds, people didn't consider the mattress very supportive.
Majestic Pet is a cuddler-style bed. The 360-degree bolster creates a perfect "bagel" for your dog to burrow into. Are you freaking out about the suede in the name? No need to fuss – the cover is a washable polyester microsuede. It's super-soft for your dog and easy to clean for you. Have small dogs? The entire bed goes straight into the wash – a piece of cake. For larger dogs, the cover zips off. People had no problems getting the cover back on, ranking it above beds of similar design.
So what are the downsides? The central cushion wasn't as comfortable as people hoped. Also, the bed wasn't as durable as people expected. Finally, this dog bed lacks a non-skid bottom. Some people felt their dog's weight was enough to hold it in place, but if you're considering this for your active dog, expect it to slide across the floor.
Best Mattress-Style Washable Dog Beds
Maybe you don't need an orthopedic dog bed just yet. If you have a young, active dog, you might be holding out. There's nothing wrong with that. Keeping that dog bed clean could be a higher priority in your life.
Maybe you just want a mat for your dog's crate – something to keep the kennel clean. Furrybaby has you covered. The entire dog bed goes straight into the wash – easy as you could ask. The surface is plush in texture and incredibly soft. A non-skid bottom makes sure that the mattress stays in place whether you set the bed in a crate or on the floor. Furrybaby ranges in size from XS to XL and comes in three different colors.
Downsides? No, there's not a lot of cushion there. Still, this bed is NOT for chewers. Also, you need to air-dry this bed if you want the best results and durability.
Looking for something tailored to your smaller dog? MidWest has an option for you. The super-soft polyester cover was designed for easy washing and drying. Even better, it doesn't generate "pilling," as you can see with fleece. The poly-fiber mattress has a non-skid edge that holds the bed in place (and no beads to come loose in the dryer!). The bed comes in seven different sizes, featuring three different colors.
The downsides? You don't get a lot of cushioning with this bed. Also, even with the available sizes, your dog needs to weigh less than 25 pounds to take advantage of this bed.
Squeaky Clean
Until they put self-cleaning dog beds on the market, the task falls on your shoulders. It might mean spending additional time wiping your dog down when they come inside, or it might mean running the vacuum over the dog bed when attending to your regular cleaning.
Finding a washable dog bed helps with the task. Your dog will appreciate a fresh bed to snuggle into. And you'll enjoy the absence of that horrible smell permeating the house!