Anxious dogs need a little extra support and comfort. You do everything you can to make your dog feel reassured. Maybe that means hiring a dog sitter to stop by during the day. Or perhaps you offer calming treats regularly. Calming dog beds represent the last little piece of the puzzle, surrounding your dog in cozy comfort.
The Height of Comfort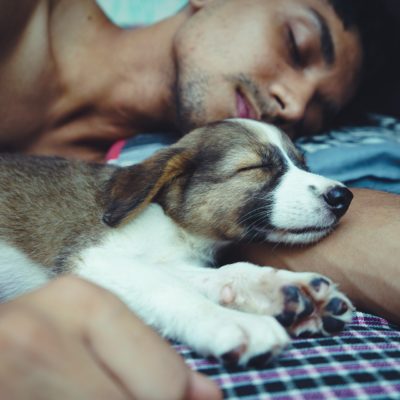 Calming dog beds feature bolsters, caves, or a central "cuddling" cavity surrounding your dog in reassuring support and comfort. They often feature the softest fabrics and textures, creating a plush retreat for your dog. You'll see calming dog beds listed as bagel beds, cuddle beds, donut beds, marshmallow beds, and nesting beds.
The bolster structure provides several benefits for nervous or anxious dogs:
The supportive design creates a natural sense of security
Plushy fabrics mimic the soft fur of a mother dog, encouraging your dog to snuggle close
The safety and relaxation provide more restful sleep for your dog
A Slight Drawback
While calming dog beds bring peace of mind to your anxious canine, they have one little drawback. Cleaning most of these beds can prove tricky. Unlike many standard dog beds, calming dog beds often slide into the washing machine in one piece. (This is dependent on the size of the bed, of course) If you want the bed to retain its shape and fabric, you need to take special care with your cleaning routine.
If your calming dog bed has zippers, make sure they're closed tight. This prevents the stuffing from escaping.
Use a vacuum or lint roller to remove as much loose hair from the bed as possible. Otherwise, the fur adheres to the bed in the wash. Make sure you pay particular attention to the creases.
If you notice any stains, pre-treat them with a pet-safe cleaner.
Follow the calming pet bed's washing instructions. NOT every bed can go into the washing machine – some need handwashing.
Wring out as much water as possible. Even if you're going to throw the bed into the dryer, wringing out the water speeds up the process.
Fluff out the stuffing within the bolsters. If you notice flat areas, push the stuffing into those areas so your dog doesn't end up flopping to the floor.
Choosing a Calming Dog Bed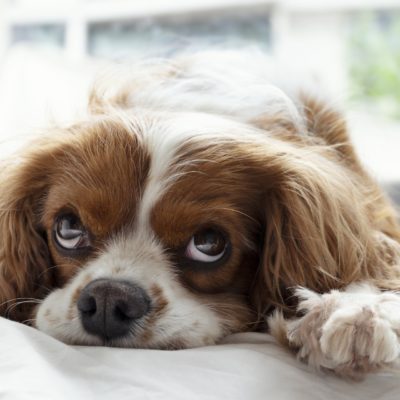 If you've perused our selection of dog beds, one or two might have caught your eye. Many dog beds feature at least one bolster to prop up your dog's head or feet. This may or may not satisfy your dog's need for security and comfort, though. When searching for a calming dog bed, you want to keep the following in mind.
Size: Small dogs don't have a monopoly on anxiety. If your big canine needs a bagel bed, make sure they'll fit inside. Take your measurements while your dog's sleeping to choose the most accurate size.
Comfort: The best calming dog beds are round or oval, allowing them to curl inside. You also want a soft material that invites them close.
Stuffing: If the filling goes flat as soon as your dog lays down, that doesn't work. You can find memory and orthopedic foams for arthritic joints or even flexible gels.
Washability: Now that you know how to properly prolong the life of your calming dog bed, make sure your chosen option works for you. Are you okay washing a bed by hand, or do you need that critical machine-washable feature?
Best Calming Dog Beds
Nothing beats curling up, warm and cozy in a fleece blanket when we feel out of sorts. Calming dog beds offer that same comfortability to our dogs. They have the security of the bolsters to lean against, plush fabric to snuggle into, and warmth from their body heat, reflecting at them. With a calming bed available, you'll likely see your dog's anxiety dropping. Just remember those super-cushy fabrics DON'T work well for heavy chewers.
Best Standard Calming Dog Beds
If you have a younger dog or a spry dog, you may not have concerns for orthopedic support. Calming dog beds provide a level of padding and comfort through their design – more so than a standard dog bed. With a primary concern for security and softness, these calming dog beds fit the bill perfectly.
AmazonBasics provides two different shapes for their calming pet beds: round and octagon. Both offer raised bolsters to surround your pet in flannel-soft comfort. The outer canvas sides are waterproof and give the bed additional structure. Everything pops straight into the wash for easy cleaning, and you can reshape the bed if needed. Your dog can snuggle inside and feel warm or cool, depending on the season.
Downsides? This particular bed only suits dogs up to 25 pounds. And while machine washable, it needs to air dry.
Another offer from AmazonBasics, the Cuddler provides soft Sherpa or flannel fabric interiors and a sturdy canvas exterior. The bolsters give your dog the comfort they need when they want somewhere to retreat. If your dog's a little older, the low front entry makes it easy for them to step inside. Four different sizes accommodate just about every dog. And when it's time to clean, the cover zips off for easy washing and drying.
The downsides? Even with four sizes, giant breeds won't fit in this calming dog bed. The fabric doesn't hold up to dogs that like to dig into their bed before they settle.
Best Friends offers a calming dog bed in four different sizes, cradling dogs up to 150 pounds. The faux shag fur mimics a mother dog's coat, inviting your dog to burrow into the plush round bed. The raised edges cradle your dog in comforting security, keeping them warm throughout the year. The small bed goes into the wash on its own, while the larger sizes have a zip-off cover. You don't even need to air dry the bed (in fact, it'll cause the fabric to mat).
So what are the downsides? While cozy, the faux fur can get overly warm for some dogs, especially during the summer. And the padding in the middle is significantly less than the edges, causing your dog to rest on the floor.
Yes, Mixjoy lists "orthopedic" in their calming dog bed name, but there's no memory foam or orthopedic padding, which is why it's up in the standard bed listing. Still, your dog gets an excellent snuggle bed with raised bolsters for added security. The faux fur invites them to cuddle and keeps them comfortable at all times. It even warms with their natural body heat. The tag recommends handwashing, but you can throw the bed into the washer and dryer if you use the gentle cycle and low heat.
Downsides? The middle doesn't have much padding, leaving your dog resting on the floor. The stuffing doesn't distribute evenly, either – people found it lumpy. Make sure you even things out after every wash.
Precision Pet gives your dog a nice deep bowl to burrow into. The Sherpa interior keeps them nice and warm while providing a soft cushion. A non-skip bottom ensures the bed won't slide around as your dog climbs inside. Ready to clean up? The bed goes straight into the washing machine.
The downsides? You'll want to air dry this bed (mostly to avoid clearing those non-skid dots out of the dryer). Also, this calming pet bed won't hold dogs larger than 25 pounds. And that Sherpa lining might get too warm in the summer.
Best Orthopedic Calming Dog Beds
Why not combine the best of ALL worlds? You can find calming dog beds with memory or orthopedic padding! This way, your dog gets the anti-anxiety features they need with the orthopedic support their joints crave. Your dog will think they've hit the jackpot! And you'll rest easy knowing you've supplied the best dog bed possible.
Does your dog like snuggling with a blanket? Furhaven took that need and incorporated it into their calming bed. The egg crate foam base provides plenty of orthopedic support, while a micro-velvet hood lets your dog disappear into a "cave." The blanket features plastic tubing to support the shape, making it easy for your dog to duck underneath. The cover zips off and pops straight into the wash.
Downsides? Some people ended up with bent or broken tubing. Furhaven WAS happy to send replacements. If your dog overheats, the blanket may not be a good idea. And the blanket's not the sturdiest material, so definitely skip this calming dog bed if your dog has any chewing habits.
Pet Craft Supply uses a memory foam mattress at the center of its calming dog bed. No matter how often your dog burrows inside, the mattress never loses its shape. A beautiful plush interior invites your dog to snuggle close, while the linen exterior reinforces the outer walls. The entire bed goes into the washer and dryer for easy clean-up.
The downsides? This calming dog bed won't hold dogs more than 25 pounds in size. The memory foam mattress has a bit of an initial odor, too, which your dog may not like.
PetFusion gives your dog a solid base of six inches of memory foam in this calming dog bed. The bolsters add that extra bit of comforting security they crave, with sturdy Polyfill for your dog to rest against. The bottom's non-skid for added protection. You can zip off the cover for easy washing. And with four sizes supporting up to 200 pounds, your dog's sure to fit.
So what are the downsides? This calming dog bed features a water-resistant liner (not waterproof, as claimed), but liquids DO penetrate. You don't want to rely on the liner. Also, the zippers aren't the highest quality, so go easy on them.
Everyone Needs a Little Extra
Calming dog beds give your dog a little more comfort, security, and softness. When they're feeling anxious or uncertain, they have a safe place to retreat to and resettle. Provided your dog doesn't have a chewing habit, calming dog beds make an excellent bridge between medication and training.
Think of it as the equivalent of your hot chocolate, fuzzy socks, and favorite movie. Your dog deserves the same level of pampering and consideration.